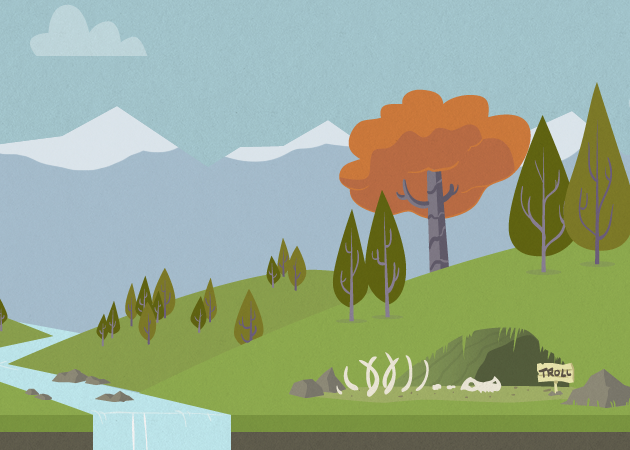 If you want to showcase your crafty side and show your works in a very creative portfolio, Tumblr blogs are a great way to start with some easily customizable themes. These are the best Arts and Crafts Tumblr Themes that you can use for your blog.
*List compiled by staff writer April
Looking good ain't always easy.  Do you need help setting up your customized Tumblr site and theme?  We can help you with that!
If none of these Tumblr themes fit your taste, how about setting up a design contest and let designers compete to create the best design for you!
Calipso is a premium Tumblr theme that was designed by Tofuthemes to display your work, your views, and your portfolio. The theme has been designed so it is easily changed and adapted to how you want it, from the colour of the links, the background, custom font and the amazing features in the side bar, you control everything.
Unlike other tumblr themes it has a two column layout and you can enabled infinite scroll too on appearance. This will make it easier for viewers to see all your posts.
Calipso has a special feature which is images slider completed with links to specific URL , beautifully displayed at the top of the index page. This Slider can be use as content preview and directly linked to your website or promotional advertising that connected to another URL .
Sakura t. is a Tumblr version of Black Sakura WordPress theme. It is clean and trendy-looking theme with number of cool features:
2 customizable color schemes (day and night)
pack of ready-made backgrounds to personalize look of your Tumblr blog
Twitter widget
Flickr widget
filter-by-post-type widget
social links widget
Cufon fonts for headers and navigation
smart jump pagination
Show/hide options for sidebar widgets (search, description, people I follow, etc.)
The Essentia Tumblr theme brings with it the next evolution in web technology: movement. This theme emphasises a unique, crisp and hi-tech look to your blog with a whole host of customisation options. One of the niftiest functions included, is the ability to upload your own background and watch it scroll automatically; To get your started, this theme is packaged with 4 Bokeh (Bubbles) backgrounds along with the PSD file to play around with.
A vintage style fully customisable theme for tumblr. Supports all tumblr post types, recent tweets and flickr photos in a unique postcard layout.
Custom options include:
Title, tagline & text colours.
Main body font.
Show recent tweets and flickr photos.
Custom background image.
Show/hide people I follow.
Built in support for disqus commenting & Google Analytics.
Elegantem is a Tumblr theme that beautifully merges design and function. Emphasizing your latest entry, this theme has a customisable layout and even supports popular social media services.
Packaged with this theme is a detailed instructions manual, an extra sliced Photoshop file that didn't make the final cut (it's a freebie) and also some free icons you can play around with.
Fanfarron theme its a elegant and very customizable theme for Tumblr, supports all tumblr features (text posts, photoset posts, quote posts, audio posts, video posts, answer posts, link posts, chat posts, day pages, tag pages, random button for posts, pages, twitter widget, search box, jump pagination, likes, etc) and other caracteristics like support for disqus comments, ad banners, Google Analytics or a Flickr widget.
Boxxed is a clean, bright tumblr theme with transparency.
Themblr is a fresh, clean and verstile tumblr template packed full of custom functionality.
Vintage sky theme supports all the Tumblr features and has two content rich sidebar, featuring your likes, latest tweets, description, search box, pages, avatar box and people your following.
The theme is very customizable via Tumblr, with a few clicks you can change the center image and the slide images of the header animation or hide the fully header, fix the columns and the background image, change background image, add latest tweets and "stuff i like" or change the color of the links.
Cream is a clean and simple Tumblr theme using subtle textures and colors for a light and playful feel. Main colors are creamy tones of beige and tan, accented with pinks for links and accent items.
The sidebar is easily customizeable and you can easily add in flickr or custom content as each block is set up as a list item of an unordered list.
Fully layered PSD is included, to allow easy editing of graphic elements.
This is a fun and creative theme which will definitely work perfectly with all your arts and crafts posts and photos.
This is a very modern and attractive Tumblr theme perfect for all the artsy bloggers out there.
Insider is a fully customizable grid-based premium theme by Pixel Union. It's fully customizable and gorgeously simple.
This theme definitely has a relaxing vibe and it will definitely work well for all those bloggers with a truly creative vibe.
This is a simple but definitely creative theme with classic colors. This can be very effective in helping you showcase your artwork.
With support for appearance customization, it's easy to fine-tune to your liking. Hide or show tags, integrate Disqus for post comments, add Google Analytics, endless scrolling, and tweak general colors.
Storybook is part fairy tale, part workhorse, and all handcrafted. Featuring crisp detail, page support, and social media links, Storybook is a fantastical theme for anyone wanting more whimsy in their web.
This is a very attractive and creative theme that is perfect for all the arts and crafts bloggers out there. It has a good color with eye-catchy design elements.
This is a very fun, vibrant and interesting theme with a highly modern vibe. The mix of colors are great making sure that the entire site definitely stands out effectively.
Halcyon marks a golden age for grid themes. It's as tranquil as it is polished, gorgeously flat and incredibly color-customizable. An evolution of the iconic masonry theme that adds as much as it refines, Halcyon is a boldly confident grid theme designed to handle anything and improve just about everything.
Continue Building Your Personal Brand with Our Best Tips. FREE.
Join our free newsletter for our best tips and strategies to become a superstar online. Whether if you're a blogger, coach, musician, or youtuber, you can take charge of your dreams. Use our insights and gems from years of consulting clients, corporations & celebrities.