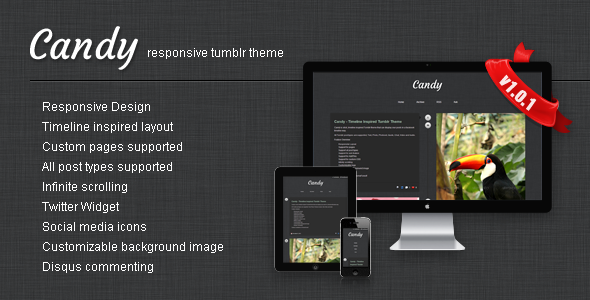 We know you love sharing those gardening tips and techniques you've been using by blogging about it. Tumblr is one of the fastest way to start blogging. These are some of the best Gardening Tumblr Themes to make your blog really attractive and help give you the appearance of being an authority on the subject.
*List compiled by staff writer April
Looking good ain't always easy.  Do you need help setting up your customized Tumblr site and theme?  We can help you with that!
If none of these Tumblr themes fit your taste, how about setting up a design contest and let designers compete to create the best design for you!
Trinidad is really cool vintage pixel perfect theme. One can use it for personal blog or whatever he/she like. The theme includes:
Responsive Design
Pixel Perfect Graphics
Social Icons
Instagarm Icon
Google Analytics
NIFTY is a sleek, minimal theme for blogging system – Tumblr. Variety of custom options makes it multipurpose use! You can easily change the overall view of the theme (for best start, we've prepared a well documented user guide file).
NIFTY supports all Tumblr post types: text, photo, photoset, audio, video, quote, dialog, AMA, chat and link. We know that social sharing is important, so NIFTY contains three social elements: socially sharing buttons on each post permalink page, two social widgets in footer and on the right side (icons). If you're using Twitter or Instagram – there are prepared specially for you cool widgets in sidebar! To stay in touch with your friends or visitors, we have made a Disqus comment system support.
Easy to modify.
HTML5 & CSS3 .
Supports all post types.
Support for Custom CSS .
Organized HTML code.
Upload Header Image.
Disqus Comments Ready.
Google Analytics Ready.
Twitter Feeds.
JQuery Tooltips.
Social media supports (Twitter, Dribbble, Facebook, Flickr).
Candy is a responsive, Facebook timeline inspired tumblr theme build.
By using this theme, you can show your posts elegantly with a facebook timeline style. This theme provides support for all tumblr post types, custom pages, disqus commenting, twitter widget and many more!
Support for all post types
Responsive Pinterest-like layout
Optional endless scrolling
Google Analytics
Custom font and background colors
Custom header background image
Editable footer text
Support for all major browsers
Support for custom CSS
Flickr, Instagram and Dribbble feeds
Package contains extensive documentation, which help you set up every option of this theme.
Responsive Design, Creative blog retro style theme for tumblr. Upload your own logo, have widgets on the footer and more.
Woody Theme is here with nice typography and modern pixel perfect design. This theme is made for Tumblr and it will takes you 1 minute to install theme.
Woody Theme features: Tag Cloud Author Name & Avatar featured on posts (can be turned off) Disqus Comments Google Analytics Flickr Feed Widget Twitter Feed Widget Icons for each post type Social Network Links (choose your own sites) All Tumblr Post Types are supported
Pastel is a customizable and responsive Tumblr theme, made to adapt to any screen size.
Sunset is a colorful responsive theme HTML5 for Tumblr. It features a Pinterest Masonry layout with Infinite Scrolling and is highly customizable.
Glide is a 100% responsive theme. Suitable for any type of Tumblog. From photography to business. It is a great starting block for bloggers of any skill level.
Glide comes packed full of features and more get added with every update. It features an extensive list of editable options via the Appearance panel, flickr stream, recent posts, fully responsive videos, slider and images.
The Glide Responsive Tumble theme resizes when your browser is resized. No matter what device you view the blog on it will still look as good as the full site. No need to zoom in and try to press tiny buttons.
National Park is a handsome two-column Tumblr theme, with an index page that can show off your music and Flickr photos beside your posts.
Features and configuration options of National Park include:
Custom header/title font (Mirisch)
Optionally replace blog title (as shown on sample theme) or entire header with custom image
Option to display Flickr photos in sidebar (use idGettr to find your user ID)
Option to display album art for favorite music in sidebar
Option to display up to six social links
Option to show Twitter timeline
Option to show Twitter and Facebook buttons on each post
Google Analytics
Queens is a delicate theme. It's never quite the same either – you can control the look and feel of your blog by uploading your very own background image.
This is a very classic and professional theme that can effectively help you share to your followers and subscribers, you garden tips, garden notes and techniques.
The Single A tumblr theme introduces two new features: the sticky post and featured posts. It is a simple, but super customizable free theme.
Sticky Post
With Single A you have the ability to "stick" one post at the top of your blog regardless of the date and time of the post.
The sticky post feature allows you to do any of these things. With the sticky tag you can highlight whatever you want in your blog's top spot.
This is a classic theme with a very clean and attractive appeal.
Simple but very classy and clean. The text is clearly seen and photos can effectively be used here as well.
Simple and stylish but very professional. The font is clear and well read.
A port of this classic, and extremely popular, award-winning design, modified to fit on Tumblr.
Longfrom is our gilded carriage for text. Typographical refinement and a pristine layout make content pop while staying classically minimal. It's an beautiful and expansive space for the full extent of your creativity, perfect for content-heavy blogs of all kinds.

This is a very simple theme but with a professional vibe. This will surely work to showcase your gardening tips and techniques.
Continue Building Your Personal Brand with Our Best Tips. FREE.
Join our free newsletter for our best tips and strategies to become a superstar online. Whether if you're a blogger, coach, musician, or youtuber, you can take charge of your dreams. Use our insights and gems from years of consulting clients, corporations & celebrities.