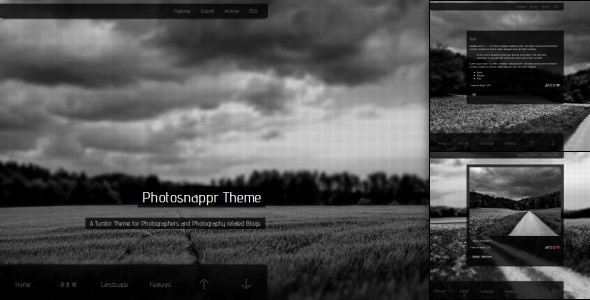 It is always best to have an impressive, easily accessible portfolio online. This is why you should choose a good Photography Tumblr theme if you're starting your own photography studio. These themes focus on the images and minimize distractions from other parts of the template design. These are some of the best Photography Tumblr themes that you can use.  To expand beyond just a portfolio, such as allowing clients to review proofs and purchase photos, you'll have to upgrade to at least a self-hosted WordPress site, which we can help you with.
*List compiled by staff writer April
Looking good ain't always easy.  Do you need help setting up your customized Tumblr site and theme?  We can help you with that!
If none of these Tumblr themes fit your taste, how about setting up a design contest and let designers compete to create the best design for you!
1. Berlin
Berlin is the perfect theme for photographers and portfolio lovers. The layout has been made in a way to allows people checking different posts without going to an other page.
Details
Demo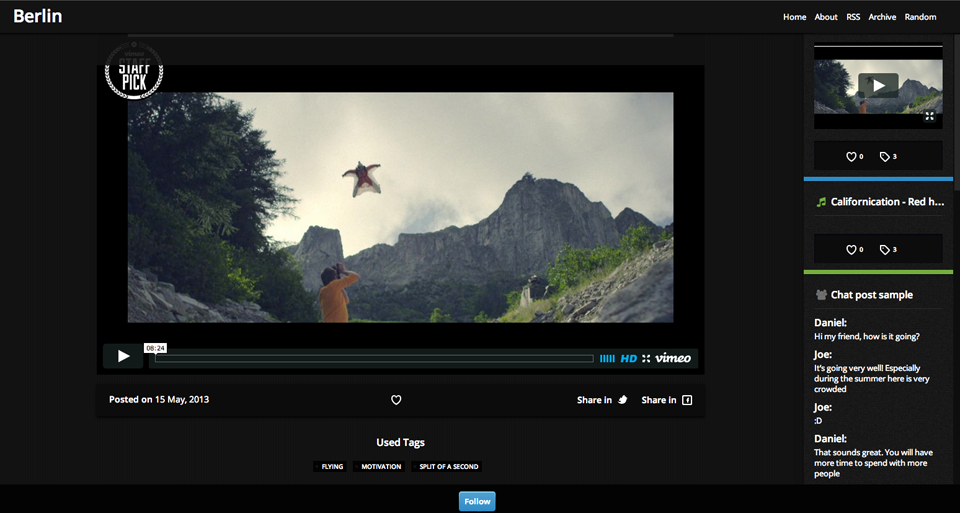 2. Amanra Responsive Tumblr Theme
a slick and eye-catching Photography & Portfolio Tumblr theme to showcase your best work. Amanra is feature rich, the theme is already responsive and it is powered by Isotope grid layout for the homepage.
Details
Demo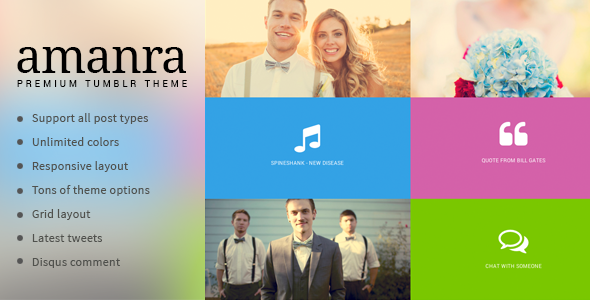 3. The Catalog
The Catalog simple yet very complete Tumblr Theme focused on getting all your photos, text, videos, audio in a catalog-like format. All posts are showed as thumbnails and you can see more by clicking them. It's a responsive theme that works well in different screen sizes. It has a slider that fetches posted photos based on a special tag.
Details
Demo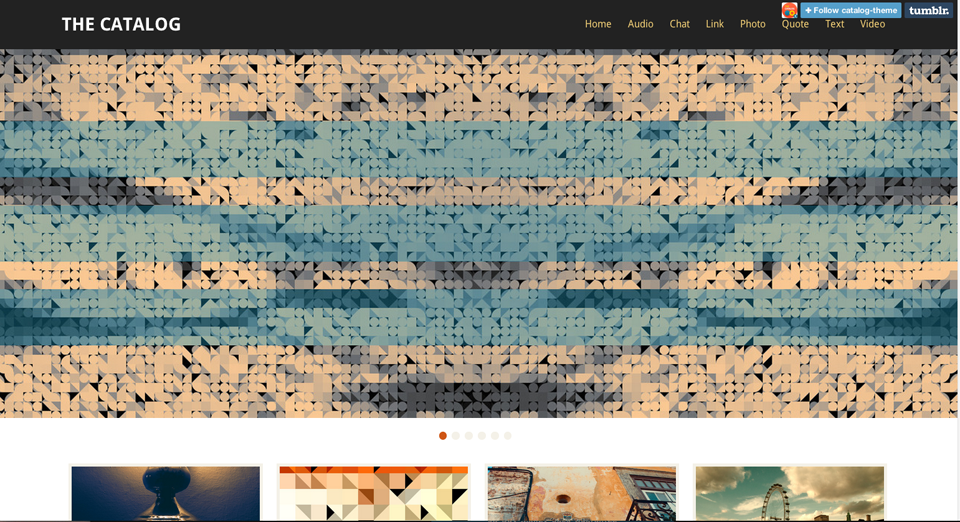 4. Vanity Responsive Tumblr Theme
The Vanity Tumblr theme is great for travel blogs because it reduces clutter through simple and intuitive organization, employing a customizable profile/landing page and full, infinitely-scrolling panels for your Blog, Instagram, Flickr, and Twitter feeds. Vanity, simply put, redefines the notion of "web presence."
Details
Demo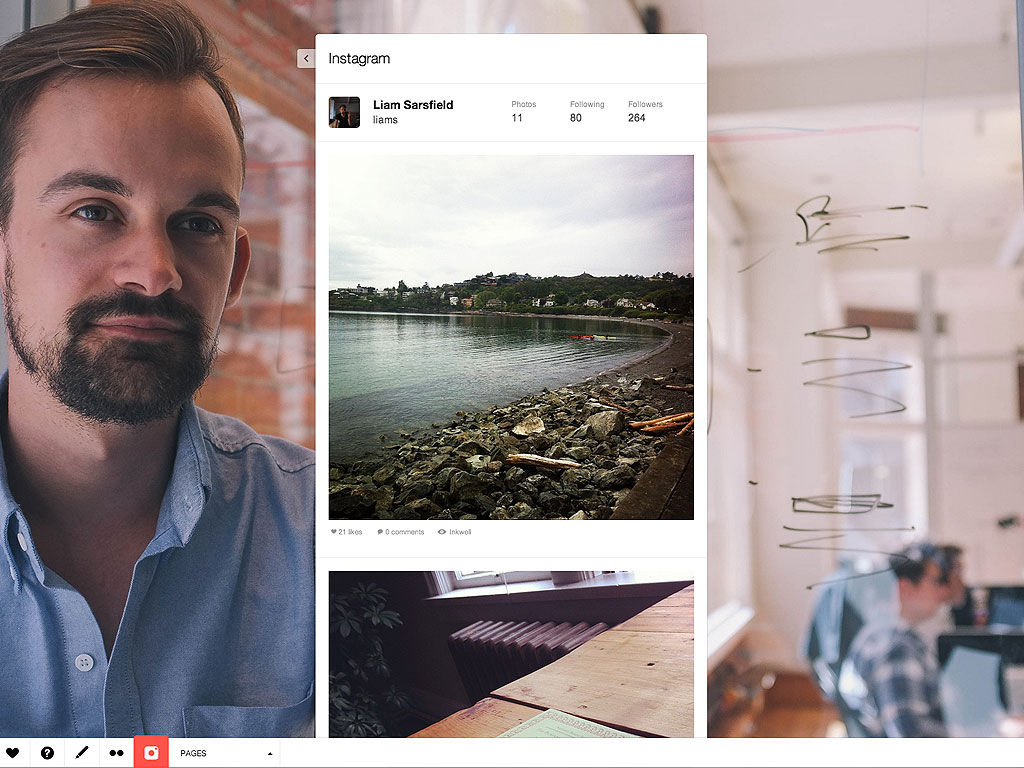 5. Depth of Field
Depth of Field is a fullscreen photography theme for Tumblr. It's a great way for photographers to showcase their portfolio in a breathtaking way. Nevertheless, this theme also supports all the other Tumblr post types, meaning that you can also post galleries, videos, audio tracks, quotes, chats, links and normal text posts. Check the live preview for examples of how each post type looks like when using this template. In addition, this theme also supports the submit and ask post types.
Details
Demo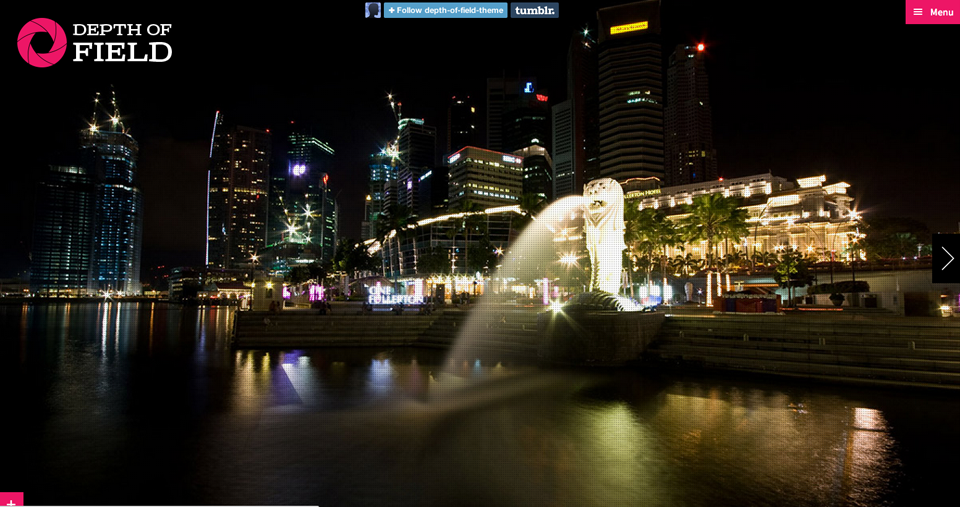 6. Halcyon Responsive Tumblr Theme
With such a unique design, Halcyon is as tranquil as it is polished, gorgeously flat and incredibly color-customizable. An evolution of the iconic masonry theme that adds as much as it refines, Halcyon is a boldly confident grid theme designed to handle anything and improve just about everything.
Details
Demo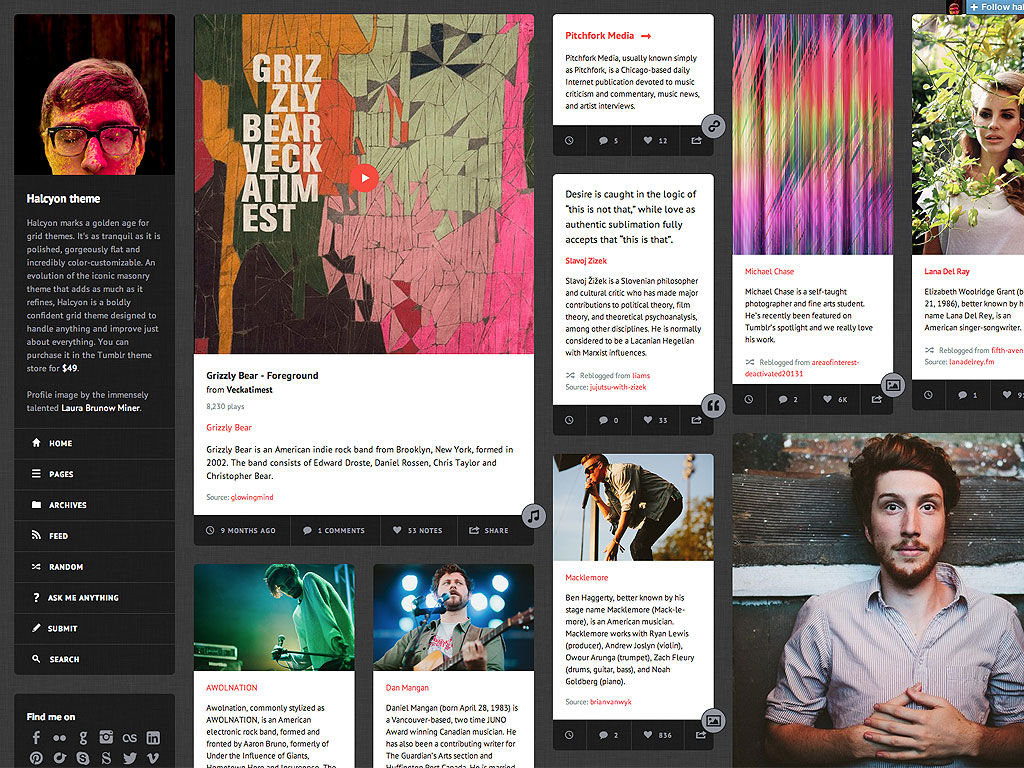 7. MATTE
MATTE is easily customizable Tumblr theme for photographers.  MATT provides options to change colour, post background, links, link background, text also options to upload custom background, custom logo.
Details
Demo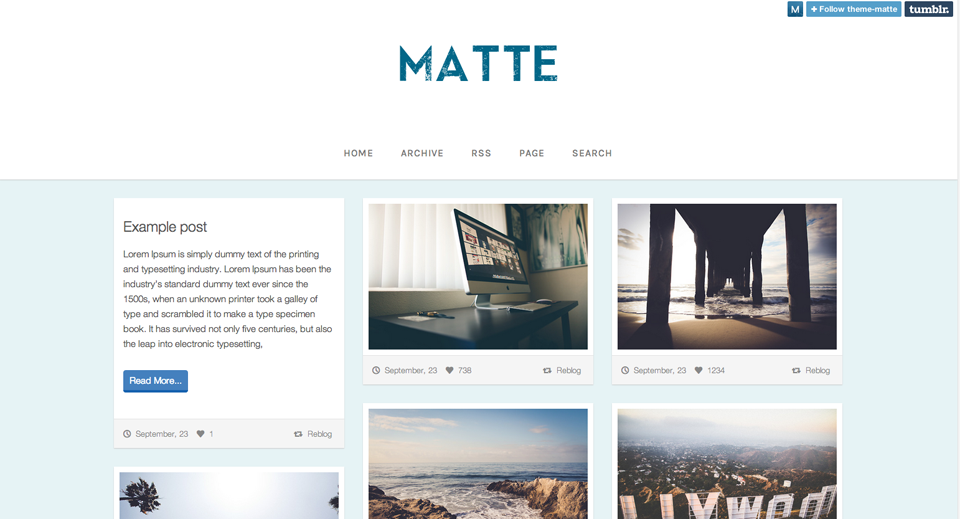 8. Premier Responsive Tumblr Theme
Premier is a clean tumblr theme with a unique sticked to top navigation bar and fade out ask box. It is also built with 2 hover effects, all colors you see can be customized.
Details
Demo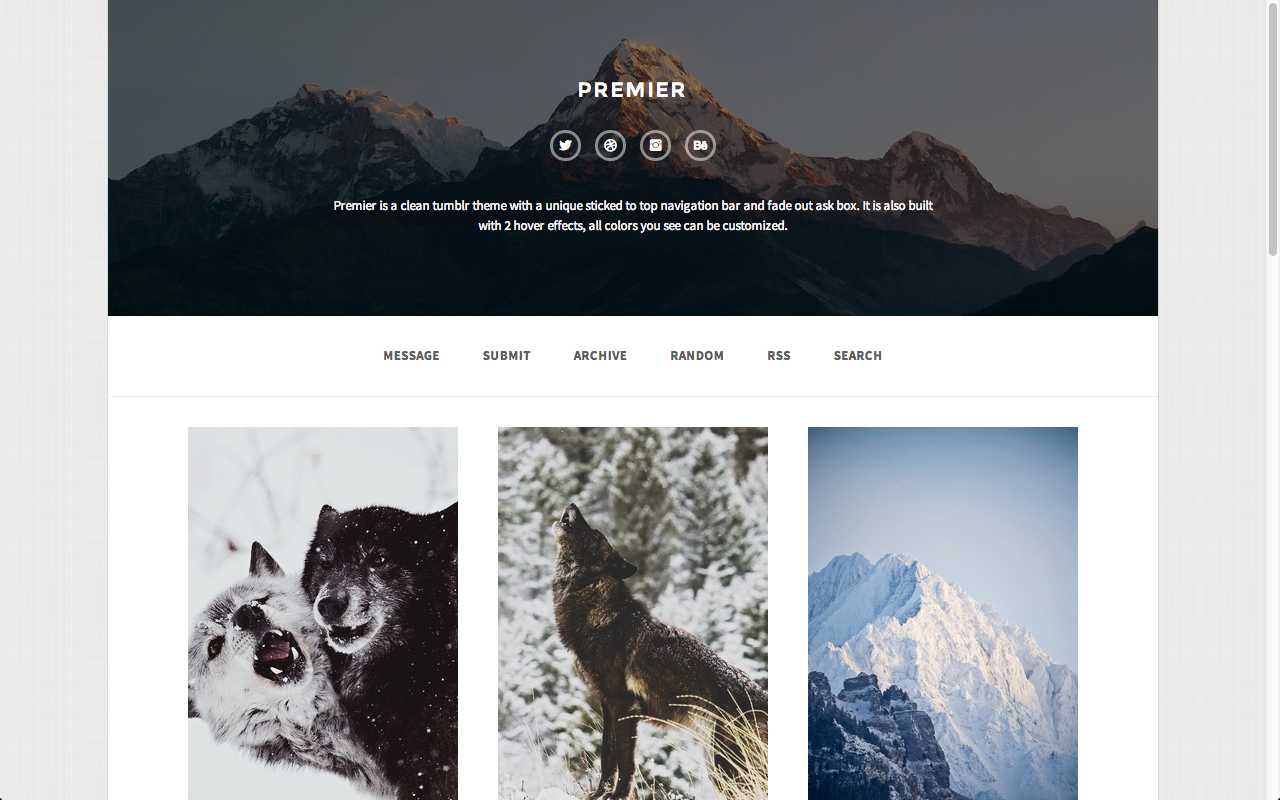 9. Ordo Portfolio Theme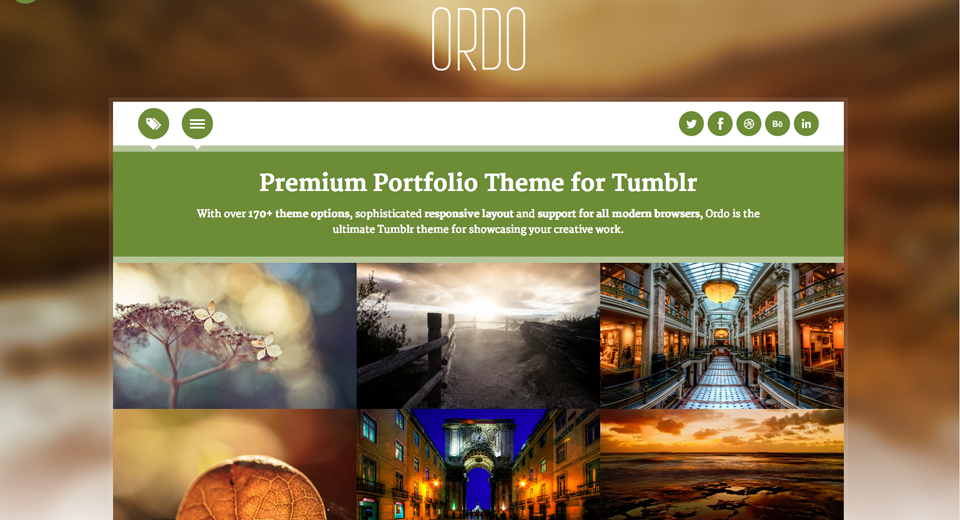 10. Cystal
Cystal is an unlimited color theme, it means that you can change any color schemes you like in your blog customize dashbrod. On the other hand, there are two kinds of layout in one template file, blog layout and fluid grid layout. Hope you like it!
Details
Demo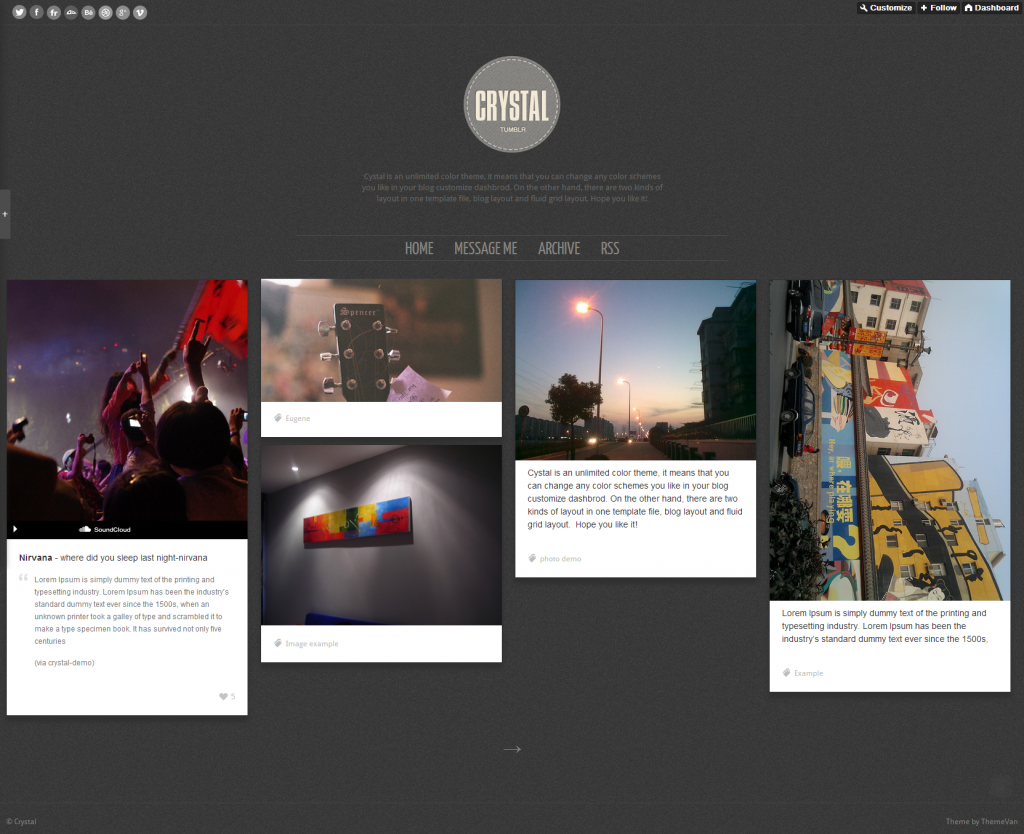 11. Kodiak Responsive Tumblr Theme
Kodiak's most stunning feature is its horizontal feed, which features infinite scroll and easy J-K navigation. Among Kodiak's most novel features is its Galleries Tab, which is setup using the tagging system. This gives your readers a clear, easily-accessed table of contents for your photographic or videographic work—exceptionally useful for portfolios. Kodiak is a responsive theme.
Details
Demo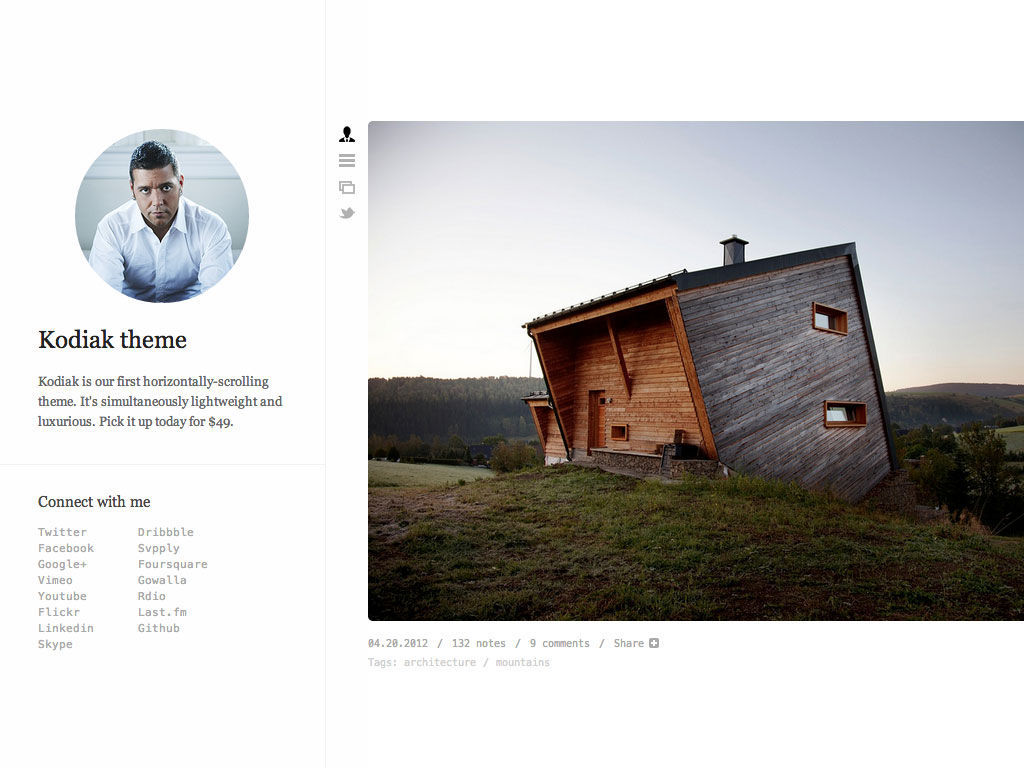 12. Pandora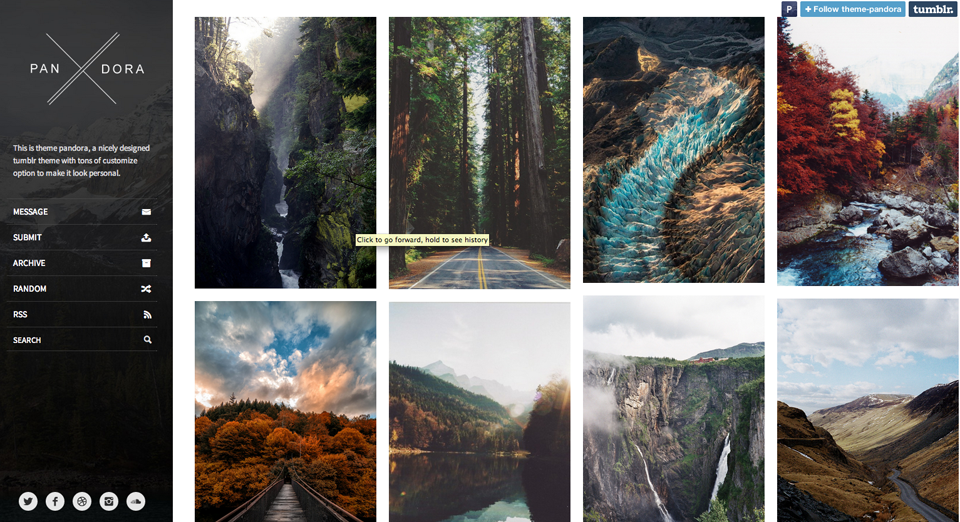 13. Juneau Responsive Tumblr Theme
Juneau is our two-column titan. It's the most flexible of our Alaskan suite, and features a masonry layout (with a single-column option), customizable header, and loads of visual accents. Designed for content-heavy blogs, Juneau also supports multiple authors and post-highlighting.
Details
Demo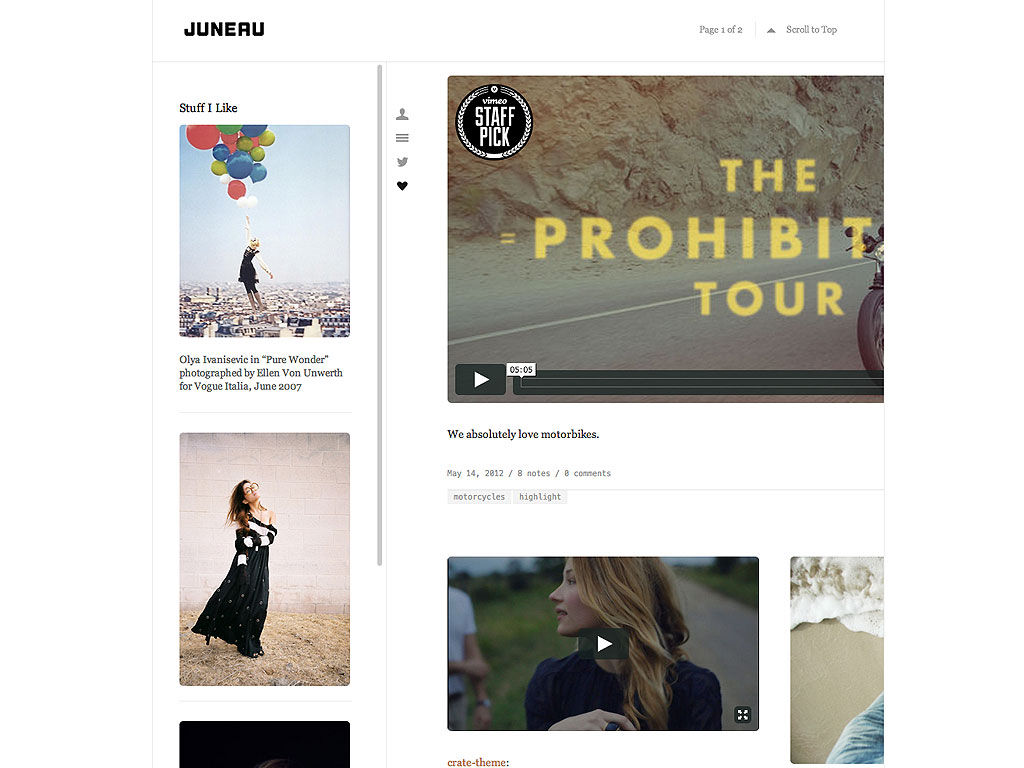 14. Photographica
Photographica is a portfolio Tumblr theme aimed for photographers and other creative professionals. It's versatile and easy to customize.
Details
Demo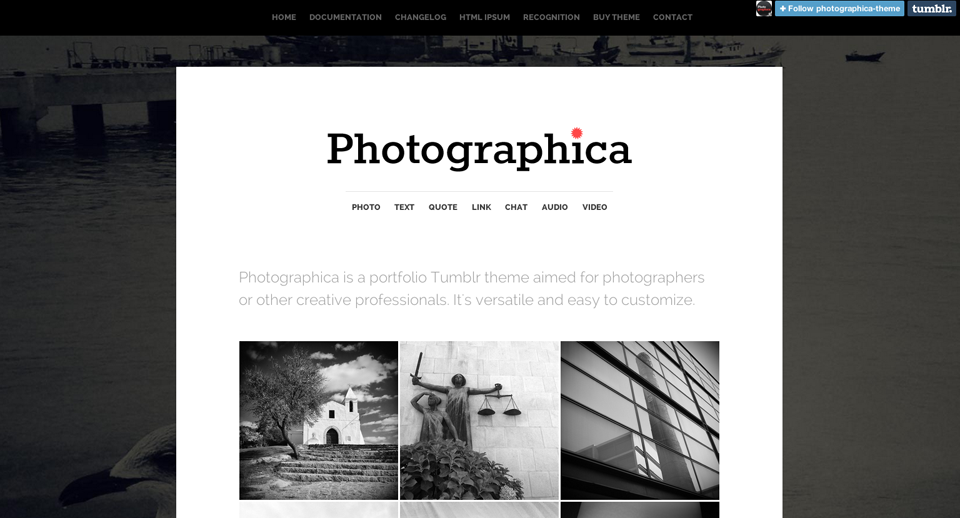 15. Karl Responsive Tumblr Theme
A responsive portfolio theme that works on any mobile device, suited for artists and/or photographers and travel blogs. It's minimal and focused on content. It features all posts types, although it's better used as a portfolio rather than a blogging theme.
Details
Demo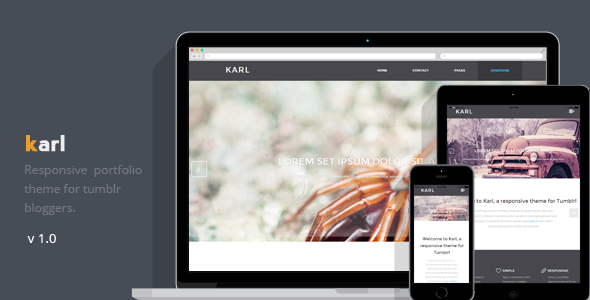 16. Rockwell
Rockwell is a clean masonry style (think Pinterest) Tumblr theme with over 50 customize options. Every color you see can be adjusted. This theme is responsive, so try it out on your phone or tablet.
Details
Demo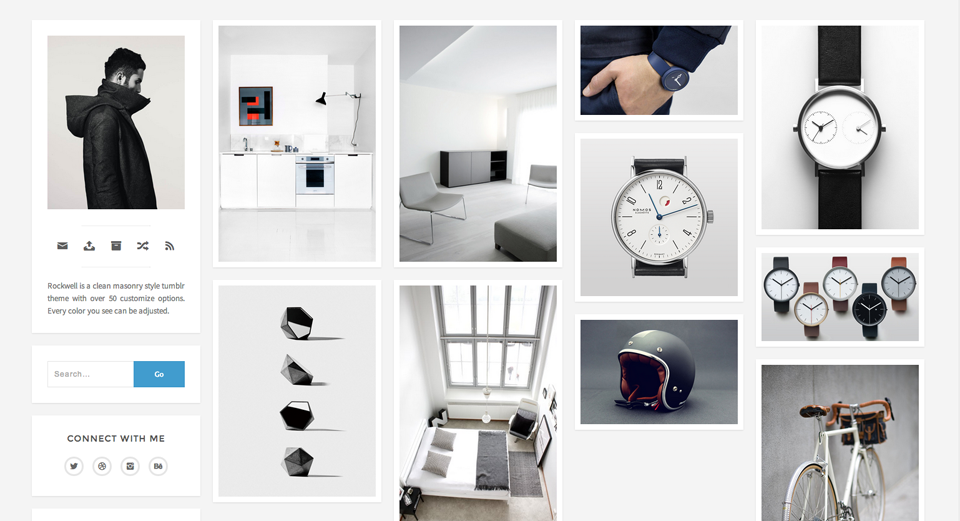 17. Aperture Responsive Tumblr Theme
Aperture is the professional photographer and travel blogger's dream tumblr theme. It's the most technically advanced photography theme on tumblr, featuring bold, fluid animations paired with novel organization. Equally suited to portfolio and photo blogs, Aperture is the perfect portal for art of all kinds.
Details
Demo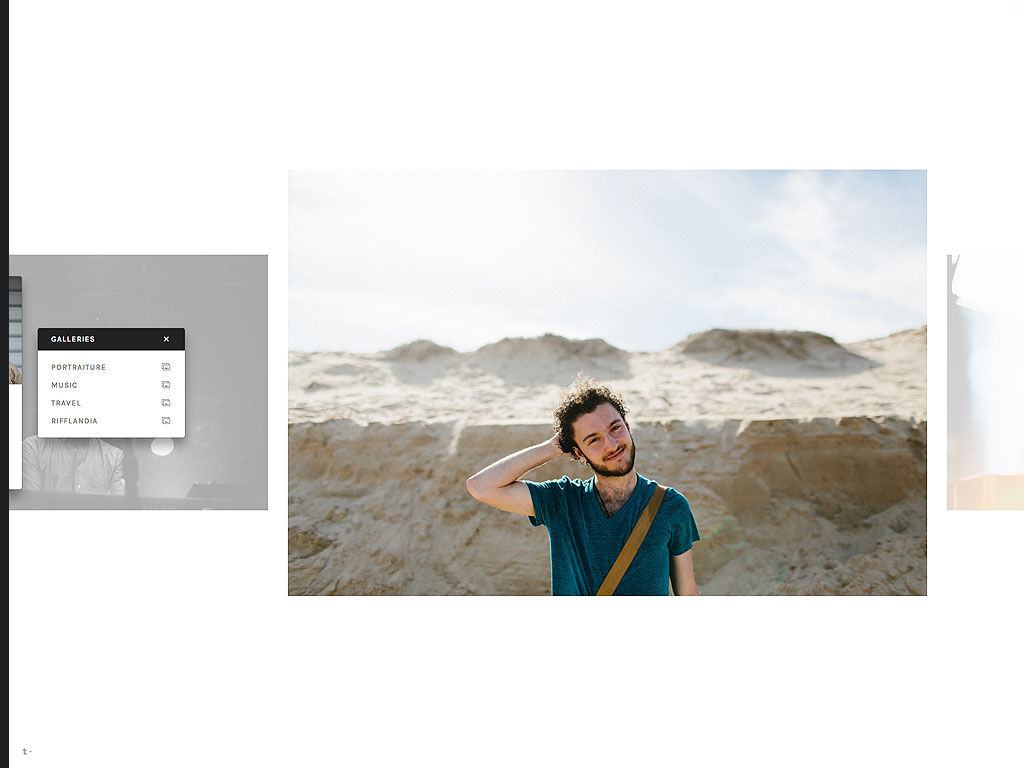 18. Scattered
Reimagine your photos with Scattered, an experimental photoblog theme for tumblr. Scattered reimagines scrolling by by mimicking real world behaviours. Instead of scrolling through photos, flick through them like old polaroids. Scattered works great with a custom background images, with your choice of full-screen or tiled (great for textured backgrounds).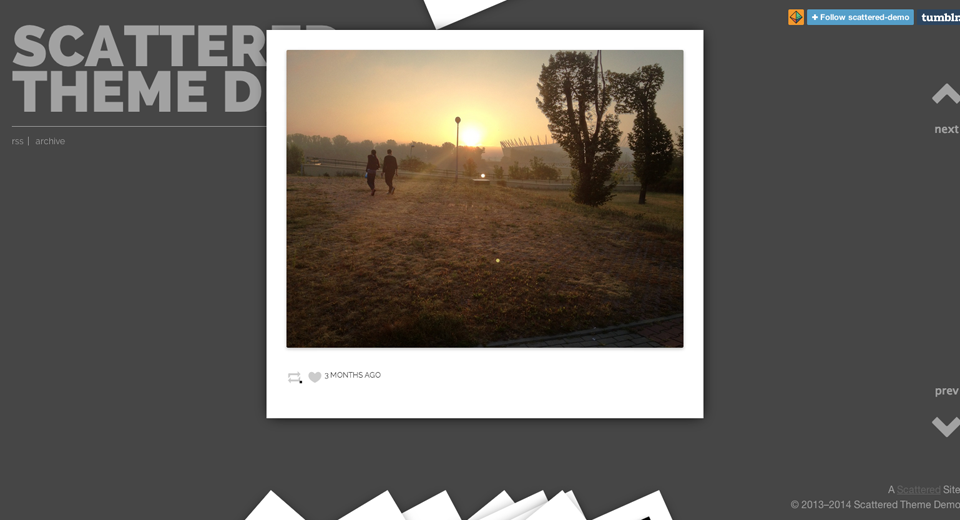 19. Kyoto Polaroid-Style Responsive Tumblr Theme
Kyoto is a simple and boxy grid theme. It's not officially supported by the Tumblr theme store, but it is wonderfully inexpensive and super flexible. And, of course, Kyoto's still backed by our lightning-fast customer support. Kyoto's posts can be highlighted or expanded to 2 or 3 columns—just tag them "Small," "Medium," or "Large." Small (default) posts are 246px wide; Medium are 556px; and Large are 866px.
Details
Demo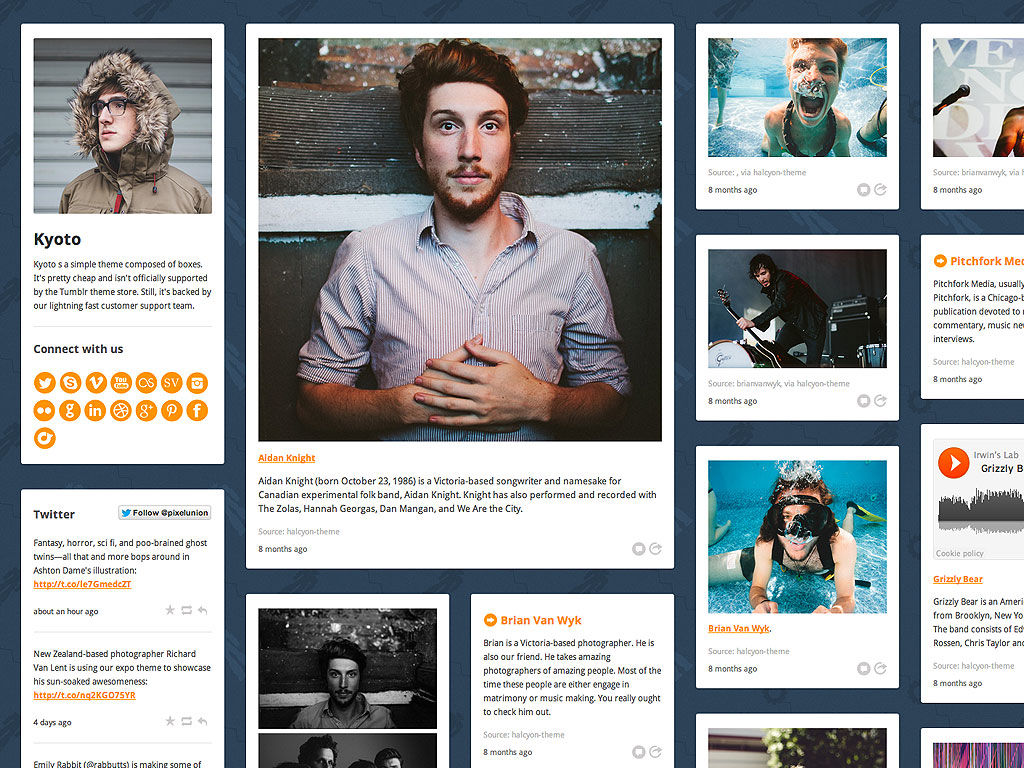 20. Rossen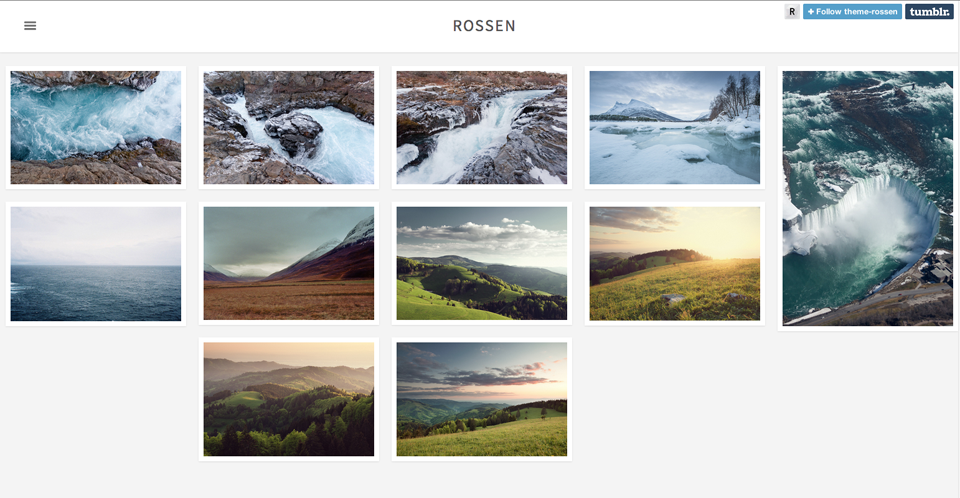 Seventeen, a grid-based, finger licking theme with support for all sorts of content – it's responsive to boot. Show off galleries, quotes, links, video, audio, or good old standard posts…
Responsive Design – Serve an optimised version of the theme to your visitors using tablet and mobile devices. Optimized for iPad and iPhone.
UltraTiles is a minimal tile based theme with a magazine style post layout. It has a huge array of features so you can customize the theme how you like. Nearly everything about the theme can be changed so you can make it look how you like.
This theme has a liquid and responsive layout with Disqus comments, custom backgrounds, custom colors and custom CSS. It also has social profile linking, infinite scroll, Ajax loading and well commented code with support for all post types.
This theme is highly responsive and is ready for infinity scrolling, photo lightbox, photoset slider, Disqus commenting. It also has custom CSS support, custom logo and custom background.
Pholiotheme is a Premium Theme for Tumblr. It's very powerful and incredibly easy to modify. The theme is specifically crafted for photography and videos. Though, other post types are also supported. There's a huge amount of options in the Dashboard. The theme therefore gets a complete make-over with just a few clicks. The theme has a responsive layout and iPhone/iPad retina graphics. No matter what type of screen your visitors are using, this theme always fits perfectly on every screen
This theme supports all types of post. It also has an Pinterest style infinite scroll with an upload header image. It also has a custom photo hover coming with two post sizes. It is also ready for Disqus comments and Google Analytics.

Industrialr is a clean, minimalist, and industrial-style inspired theme.
This theme is written in HTML5 , CSS3, javascript, and uses the jQuery library.
The theme is also very customizable and can suit many needs. In addition to color and image customization, various elements can be hidden through the customization options, such as the information appearing at the bottom of the post and post header icons and titles.
MetroFolio is a clean portfolio style Tumblr theme made for creatives out there, whether you be a graphic designer or product designer. It's been made to have a portfolio look for a professional presentation of your work.
UltraMnml is a very clean, minimalistic and responsive Tumblr theme made for the power blogger. It supports all post types and is made for any type of Tumblr blogger, whether you're a writer or a photo blogger, this theme will make your content look awesome. It is also responsive so it'll look great on both your phone or tablet.
Up to 12 background images. 500+ GoogleWebFonts and 16 standard fonts. Disqus ready. 4 Customlinks. Easy slide to next post navigation. Hide or use overlay image. All Post-Types
This is a theme that attempts to replicate the qualities of  a printed magazine Tumbleblog format.
Spectator is the ideal place to show off your work, or a collection of things you love. Spectator shares a header and footer with Observer, a free, single-column theme. It's the perfect way to add a portfolio or curated collection to your blog.
Shutterbug is a photo only theme where artists and photographers can showcase their beautiful work
This is a very creative but classic looking theme that works well by showcasing your photos and shots in a very professional manner.
Fluid is for everyone. With over a million installs in over a dozen countries, it's Tumblr's most popular theme and for good reason. Now in it's second incarnation, Fluid Neue features totally rebuilt audio and photoset mechanics, upgraded framing and shadows, integrated Twitter, Instagram and Flickr feeds, and the slickest share widget ever made. And, as always, it's totally free.
Framework is a stripped down theme jam packed with well over 100 appearance options to help you design a theme that's totally you!  With Framework you can control the overall size and positioning of your theme and side column. You choose the font, size and color of almost every element on your blog. The background and header graphics are completely up to you.
This theme supports large photos and videos creating a clean, beautiful way to showcase your work or inspirations. With knowledge of css you can take this theme base to create endless designs.
This beautifully organic layout gives your blog a unique look and feel, with posts randomly placed to create a different layout each time.
JUMBLE is set up to show off your individual style – you can customize almost everything you see via the theme options page.
Paper Stacks, the first Tumblr theme designed for touch. Developed in collaboration by FiftyThree and ALLDAYEVERYDAY. Paper Stacks is a beautiful new way to showcase your ideas and inspiration discovered across the web.
Exposure is beautiful way for you to show off your photography. Let your talent shine with beautiful, full-screen photos and photosets. With a unique grid system accommodating up to 16 photos, your images will always look stunning.
Square Eyes has awesome hover interactions and a fluid square grid to show off your masterpieces. It has a full-screen, responsive square grid that adapts to any device.
Continue Building Your Personal Brand with Our Best Tips. FREE.
Join our free newsletter for our best tips and strategies to become a superstar online. Whether if you're a blogger, coach, musician, or youtuber, you can take charge of your dreams. Use our insights and gems from years of consulting clients, corporations & celebrities.