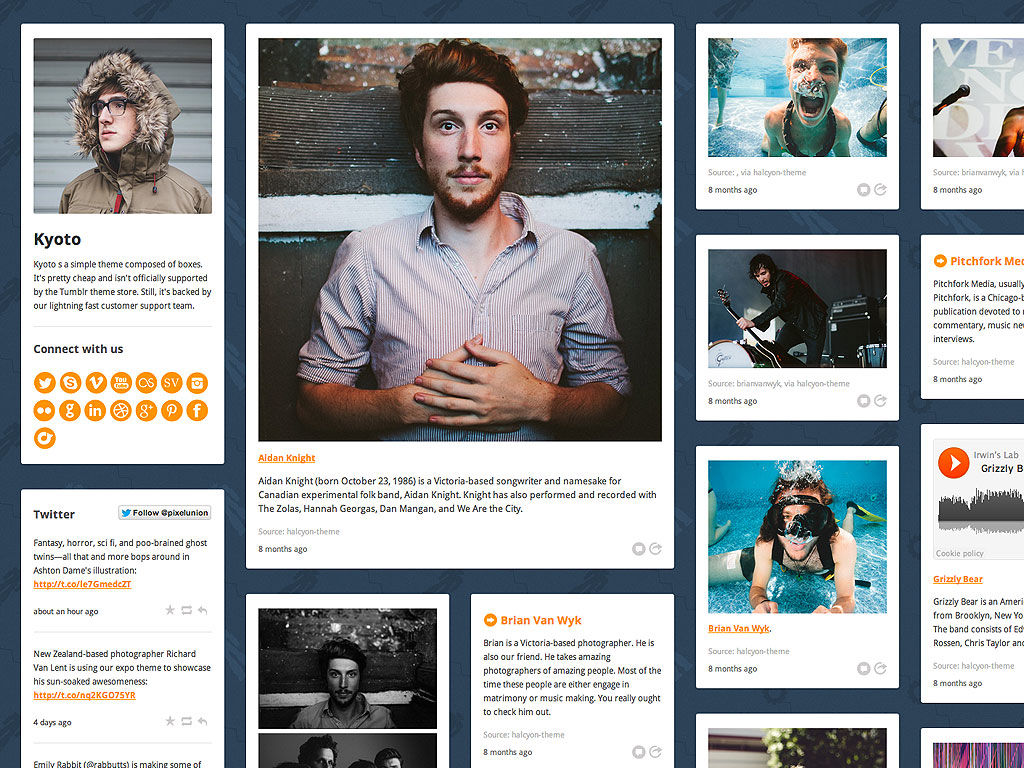 Show your friends and family what they're missing.  Blog your travel photos and stories as you experience them!  There are a lot of Tumblr Themes available that you can definitely use to share those posts creatively! These are some of the best Tumblr Themes that I'm recommending for you.  Most of these designs emphasize your photos to help make an impression.
*List compiled by staff writer April
Looking good ain't always easy.  Do you need help setting up your customized Tumblr site and theme?  We can help you with that!
If none of these Tumblr themes fit your taste, how about setting up a design contest and let designers compete to create the best design for you!
1. Kodiak Responsive Tumblr Theme
Kodiak's most stunning feature is its horizontal feed, which features infinite scroll and easy J-K navigation. Among Kodiak's most novel features is its Galleries Tab, which is setup using the tagging system. This gives your readers a clear, easily-accessed table of contents for your photographic or videographic work—exceptionally useful for portfolios. Kodiak is a responsive theme.
Details
Demo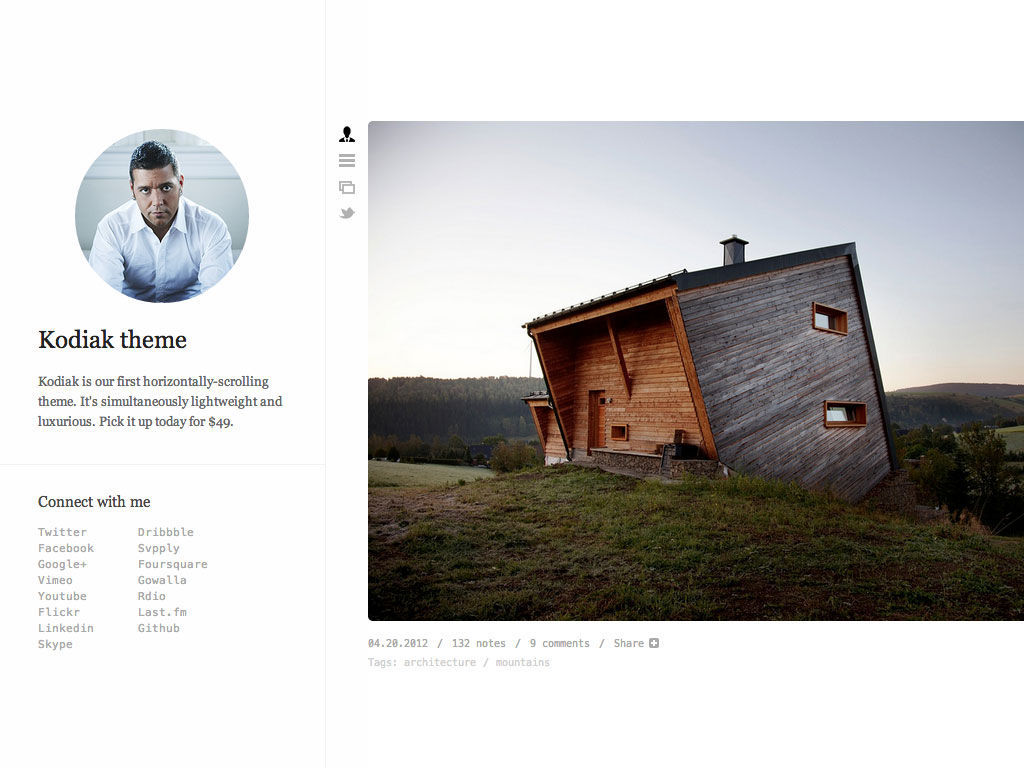 2. Amanra Responsive Tumblr Theme
a slick and eye-catching Photography & Portfolio Tumblr theme to showcase your best work. Amanra is feature rich, the theme is already responsive and it is powered by Isotope grid layout for the homepage.
Details
Demo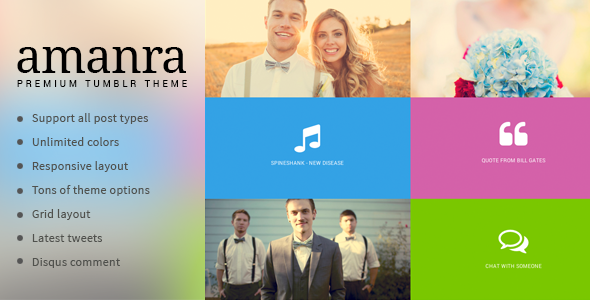 3. Juneau Responsive Tumblr Theme
Juneau is our two-column titan. It's the most flexible of our Alaskan suite, and features a masonry layout (with a single-column option), customizable header, and loads of visual accents. Designed for content-heavy blogs, Juneau also supports multiple authors and post-highlighting.
Details
Demo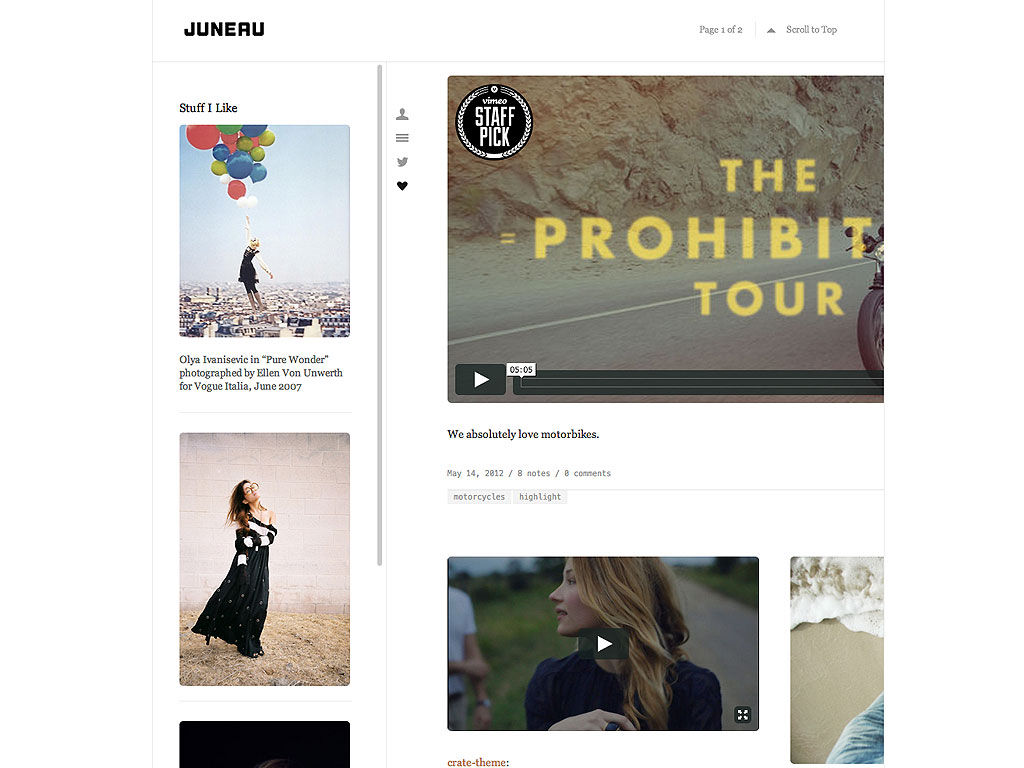 4. Vanity Responsive Tumblr Theme
The Vanity Tumblr theme is great for travel blogs because it reduces clutter through simple and intuitive organization, employing a customizable profile/landing page and full, infinitely-scrolling panels for your Blog, Instagram, Flickr, and Twitter feeds. Vanity, simply put, redefines the notion of "web presence."
Details
Demo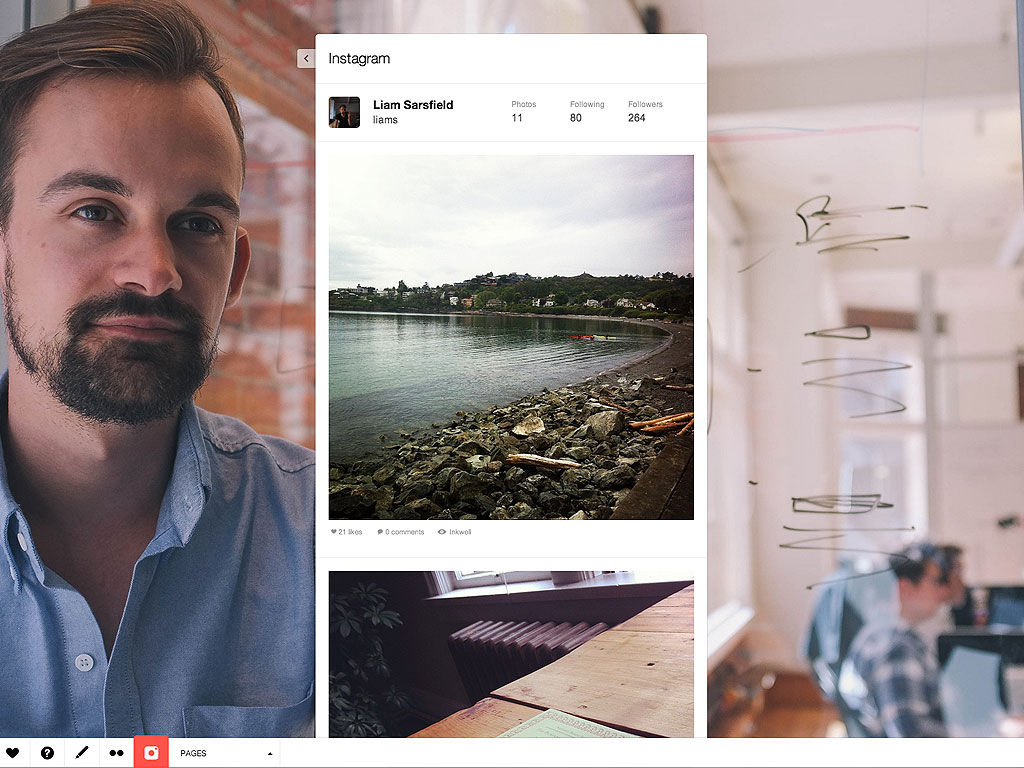 5. Karl Responsive Tumblr Theme
A responsive portfolio theme that works on any mobile device, suited for artists and/or photographers and travel blogs. It's minimal and focused on content. It features all posts types, although it's better used as a portfolio rather than a blogging theme.
Details
Demo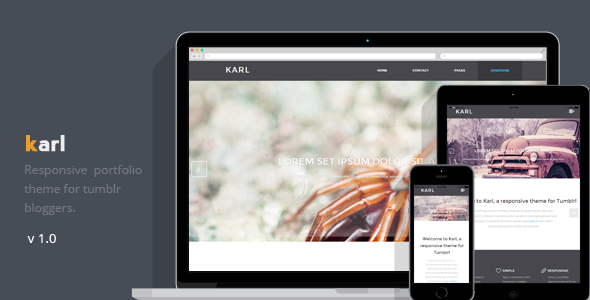 6. Halcyon Responsive Tumblr Theme
With such a unique design, Halcyon is as tranquil as it is polished, gorgeously flat and incredibly color-customizable. An evolution of the iconic masonry theme that adds as much as it refines, Halcyon is a boldly confident grid theme designed to handle anything and improve just about everything.
Details
Demo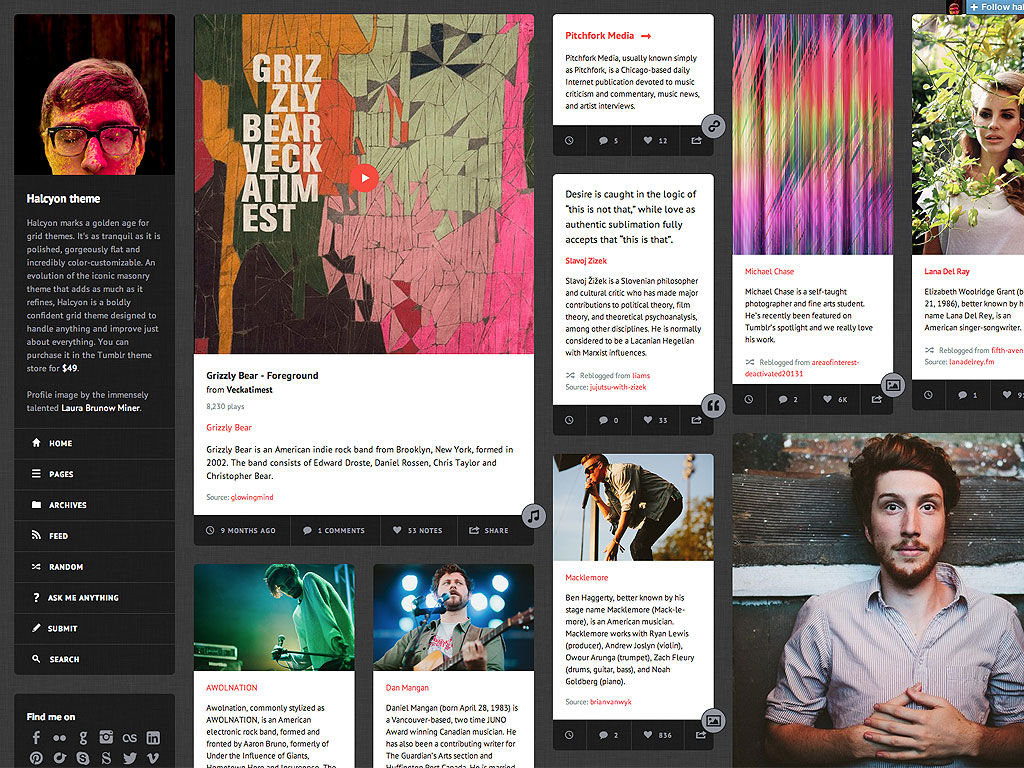 7. Aperture Responsive Tumblr Theme
Aperture is the professional photographer and travel blogger's dream tumblr theme. It's the most technically advanced photography theme on tumblr, featuring bold, fluid animations paired with novel organization. Equally suited to portfolio and photo blogs, Aperture is the perfect portal for art of all kinds.
Details
Demo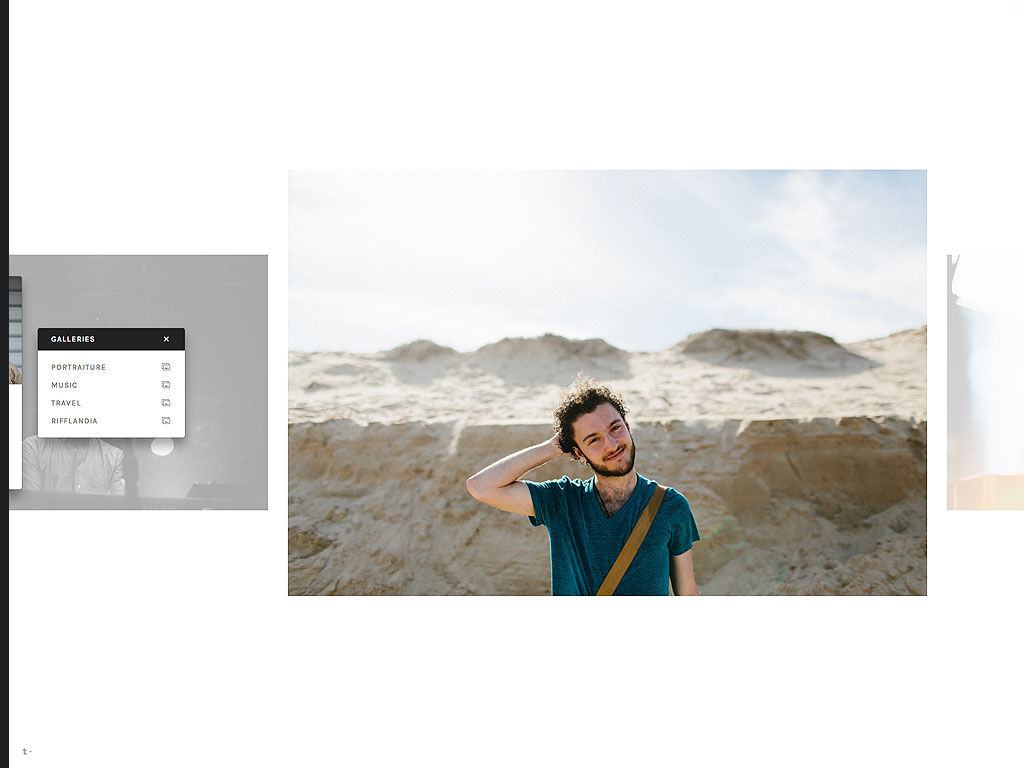 8. Premier Responsive Tumblr Theme
Premier is a clean tumblr theme with a unique sticked to top navigation bar and fade out ask box. It is also built with 2 hover effects, all colors you see can be customized.
Details
Demo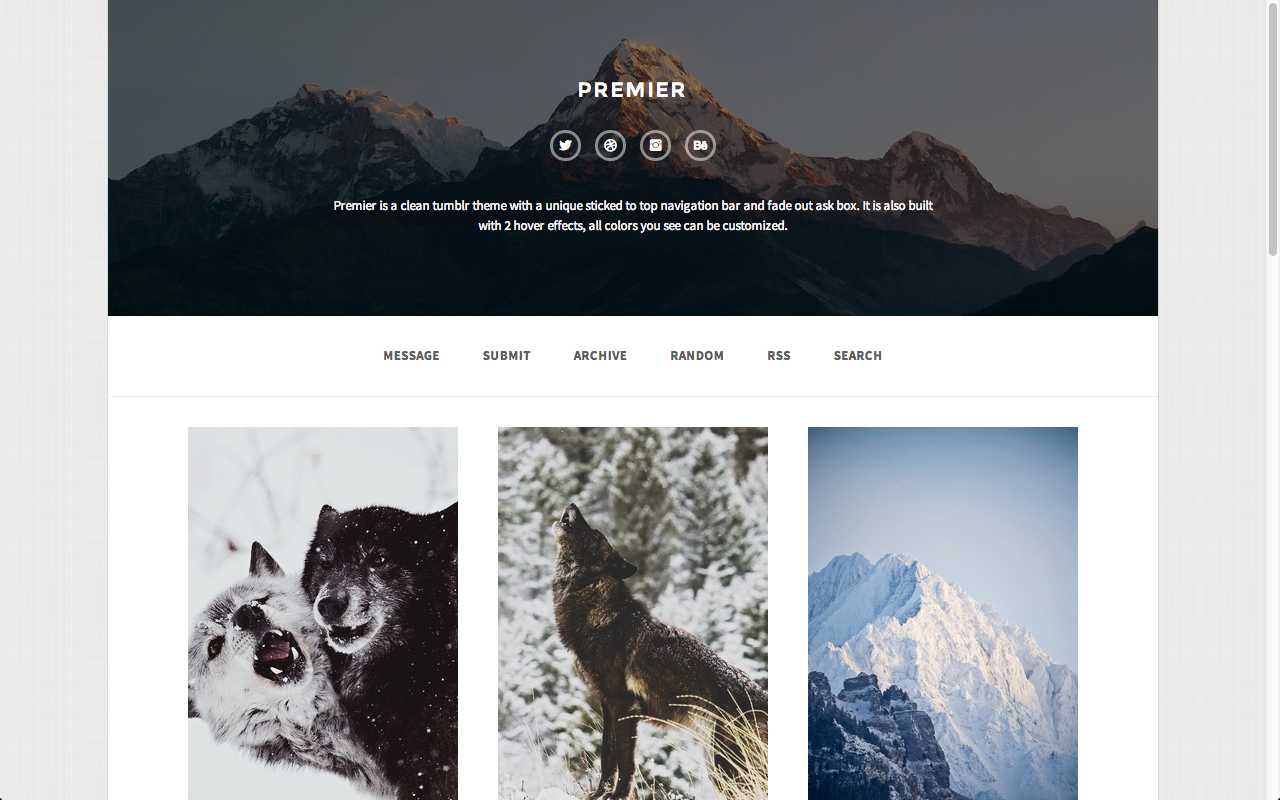 9. Kyoto Polaroid-Style Responsive Tumblr Theme
Kyoto is a simple and boxy grid theme. It's not officially supported by the Tumblr theme store, but it is wonderfully inexpensive and super flexible. And, of course, Kyoto's still backed by our lightning-fast customer support. Kyoto's posts can be highlighted or expanded to 2 or 3 columns—just tag them "Small," "Medium," or "Large." Small (default) posts are 246px wide; Medium are 556px; and Large are 866px.
Details
Demo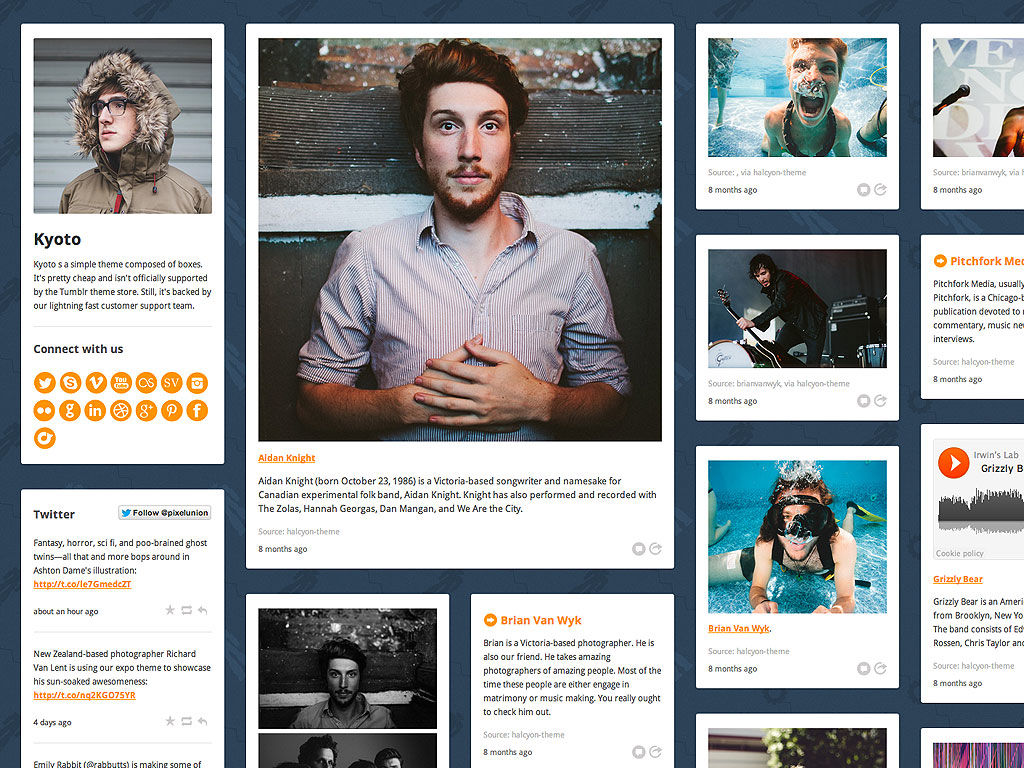 10. Cystal
Cystal is an unlimited color theme, it means that you can change any color schemes you like in your blog customize dashbrod. On the other hand, there are two kinds of layout in one template file, blog layout and fluid grid layout. Hope you like it!
Details
Demo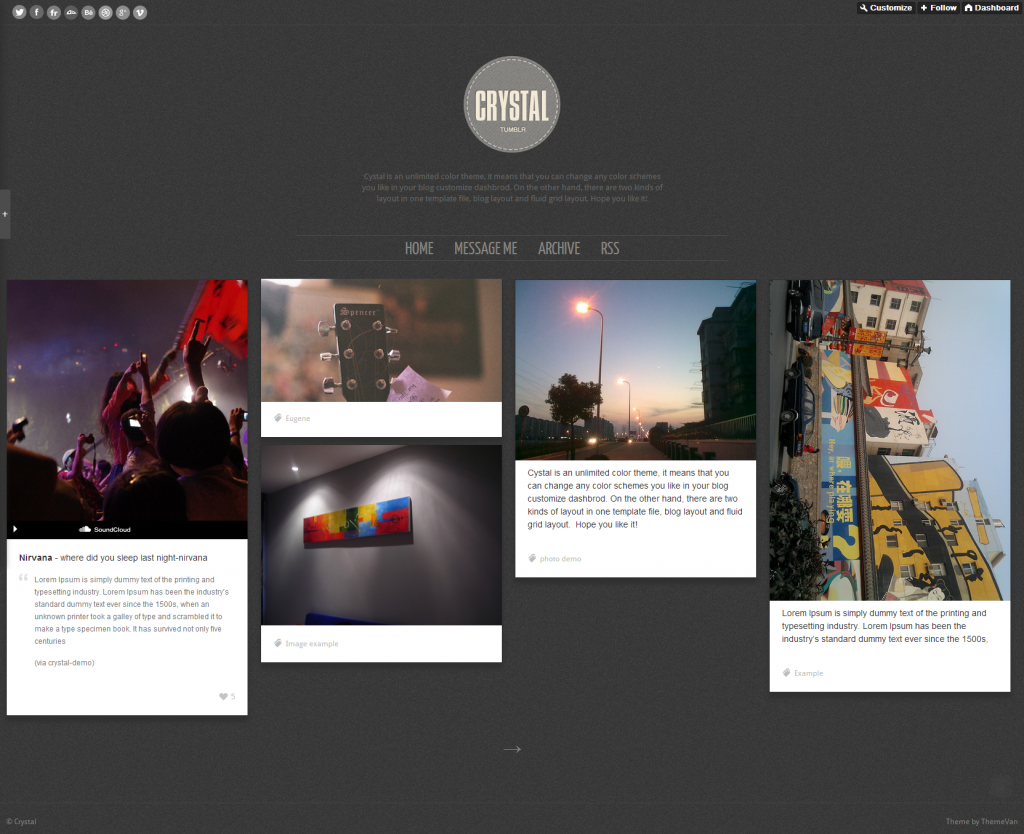 The Shift Tumblr theme is ideal for any visual blog, from a personal blog to portfolios! The image slider allows you to showcase your favorite images or best portfolio work. Shift supports all of the Tumblr post types and also features a custom post page with a sidebar to add affiliate links or a Flickr photo feed.
You can set any color you like for the theme by simply clicking on the Appearance tab and selecting a color!
The footer on the Shift Tumblr theme allows you to show off your latest Tweets, latest liked post and the people who you follow.
Appunto focuses on your content, presented in a curated and refined design. Appunto uses all the latest features from tumblr, and it's perfect for any type of blog.
You can pick the main color of the theme to personalize the look and feel of this theme.   You can also customize the title, links and other graphic elements.
Metro Lights is a clean, minimal and dark Tumblr theme with custom fonts.
The theme has a great documentation that allows everyone to extend or customize the look 'n feel of the theme.
This theme is aimed for usage in personal tumblogs and for those who want to emphasize on the content of their blog rather than the design as this design has a very minimized design/communication noise.
SilentAlley is a multi-color scheme tumblr theme,include three color styles.It's support full screen background image and you can change it easily, so I think it's suit for photographer,artist or designer use.Meanwhile, you can change some parts of color,e.g. Links color, article title background and so on, it's unlimited color.At some level,it's not confined to that three defined styles, you can try your plenty of imagination to customize this theme.
Xtend is a modern theme for Tumblr, jQuery powered, with Infinite Scrolling and a Masonry layout.
Flight is a clean & responsive template for a tumblr blog. It comes with lots of social features built in including post sharing and disqus commenting integration. Flight supports all post types and has a built in twitter feed.
Zeppelin is a vintage style Tumblr theme with 2 column layouts. It's designed in a simple and nice tone.
Affection is a feature-rich, responsive Tumblr theme, which starts out with a width of 1040 pixels for desktop computers and scales down nicely to tablet and smartphone resolutions. It is based on Foundation 3, one of the most advanced responsive front-end frameworks available.
Included with the theme is a featured content slider, which gives you the possibility to give extra exposure to some of your posts, which otherwise over time might get buried on page 12 or beyond. The slider can hold up to 5 images, including descriptive captions and corresponding links to the post or external site you would like to promote.
Next, this theme enables you to display your latest Instagram photos and tweets, as well as a number of popular social media links. The popular Disqus commenting system is integrated and you have the option to choose from over 500 fonts from the Google webfont library for your headers and normal body text.
The Affection theme supports all 8 post types: image, gallery, video, audio, text, chat, quote and link. The galleries are using the same slideshow as the featured content slider and can handle images with different formats.
This theme features a responsive layout,
Cross-browser compatibility.
Every post type is available – including Submit and Ask me anything. There are many options for customization with up to 5 rotating images in the header. There is optional filtering posts by type with up to 10 social profiles including RSS.
Vintage Metro is a very clean and simple theme. Yet it's very powerful and incredibly easy to modify. You get a completely different theme with just a few clicks. The theme features a responsive layout and retina graphics (for mobile, tablet, desktop and anything in between). So, no matter what type of screen your visitors are using, this theme fits perfectly on every screen-size.
Purify's main features are a fantastic grid layout that responds to the browser size. You can also filter your posts by type and by tag, giving your site's users an awesome experience.
As well as that, the theme has over 40 appearance options meaning you can make it any color you like. Permalink posts also support large vimeo, youtube embeds and large photos.
Look familiar? (Pinterest style!) Inspire Well premium Tumblr theme by Style Hatch is a flexible grid-based layout ideal for curating inspiration, sharing your creations, and documenting life.  You have complete creative freedom in customizing your site and control over the unique grid layout with small, medium and large posts.
Chunky is a very interesting and fun theme that will definitely make your travel posts shine. The colors truly match together making the entire theme work really well.
Introducing Jetty, a thoughtfully designed premium Tumblr theme to channel for your ideas, inspiration and musings on Tumblrhand-crafted by Style Hatch.
Alva is a classic and vintage type of theme with a very quirky look. It's perfectly fit for travel photo posts and even stories.
Juneau is our two-column titan. It's the most flexible of our Alaskan suite, and features a masonry layout (with a single-column option), customizable header, and loads of visual accents. Designed for content-heavy blogs, Juneau also supports multiple authors and post-highlighting.
Mallow is Storyware's most customizable theme. It offers two different design options that are both completely customizable.
Clean and fully featured. Nearly every aspect is adjustable—it can be used out of the box, or as a minimal base for further customization with CSS or the built-in appearance settings. It features smooth infinite scrolling, precise control over image and video sizes, selectable colors, language localization, the ability to show or hide every individual element (date, tags, note count, etc.) and much more.
There are a lot of fantastic Tumblr themes designed for highly visual blogs full of photo and video posts and others that work incredibly well with long-form written posts, but few themes work well for both.  At Style Hatch we designed and built Cadence with the mixture of visual posts and well written articles in mind.
National Park is a handsome two-column Tumblr theme, with an index page that can show off your music and Flickr photos beside your posts
Continue Building Your Personal Brand with Our Best Tips. FREE.

Join our free newsletter for our best tips and strategies to become a superstar online. Whether if you're a blogger, coach, musician, or youtuber, you can take charge of your dreams. Use our insights and gems from years of consulting clients, corporations & celebrities.