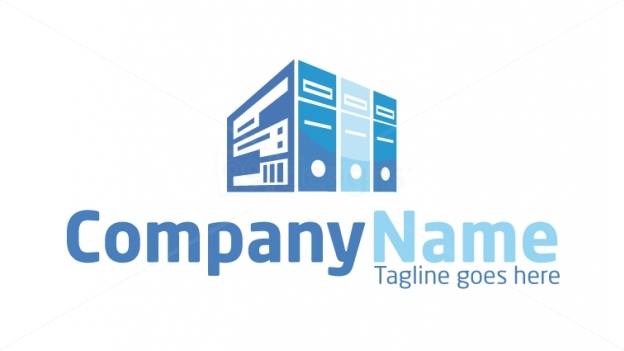 Logos for Computer Services often have modern imagery representing technology. These logos usually contain elements like computers, disks, repair tools, programming images and among others. The entire logo should properly show what a business or company can offer when it comes to computers or the internet. Logos should make a statement and should definitely stand out. Make each image unique and deviate from the usual computer icons by adding interesting details. These are some pretty interesting logos for computer services I've put together for you.
*List compiled by staff writer April.
HELLO!
 Just FYI, the logos listed here are templates.  
If you need a custom logo to really make an impression with your brand or product, 
we'd love to create something for you.
Or, set up a design contest so designers compete to create the best design for you!
1) Direct to the point, clearly portraying computer repairs.  Good choice of fresh colors with a clean font.
2) Creative design with animation imagery. Impressive how various elements of computer services are integrated into one image.
3) Love the choice of colors and attractive combination of computer and gamingicons. Modern and stylish at the same time.

4) Futuristic, vibrant imagery that stands out. Colors and font work well with each other.
5) Simple design with impressive play of lines. The font makes a statement and the colors are truly eye-catching.
6) Unique image with interesting icon arrangement. Clean and professional font.
7) Very creative image with perfectly arranged details. The colors are also very attractive and well complementing each other.
8) Love the geometric shapes layout.  Simple and classic image with a unique color combination of light green and light gray.
9) The three dimensional effect really works well. The colors are attractive and vibrant. Overall, the design is modern and interesting.
10) Another futuristic design.  Very sleek and interesting logo. Modern, stylish and good color choices.
11) Cloud computing with electrical circuits. Simple image with an embossed effect. Good transition between dark blue, royal blue and gray.
12) Interesting image with unique details

13) Elegant and unique font with an interesting whirlpool image
14) Simple image with intricate outlines and details. The font is very clean and professional.

15) Simple but playful design with definitely makes a statement.
16) This image gives off an animated effect. The colors are very pleasing to the eye and the font is clear enough to finish it off with a professional look.
17) Unique and modern image definitely representing the brand or the business. The colors are vibrant and eye-catchy.
18) Classic and professional looking image with a vibrant mix of colors
19) Interesting play of lines and colors. Simple yet stylish.
20) The colors definitely stand out. The folder images are uniquely integrated into one stand out design.  The font is also interesting.
21) Simple and straight to the point image of a laptop computer made more attractive by interesting details.
22) Vibrant colors and highly professional image

23) Impressive mosaic style image with various shades of blue to create a uniquely attractive effect.
24) Nice integration of image elements. Rich, trustworthy blue color and clean font.
25) The image is simple but really classic looking. You can readily tell upon seeing it that it is offering computer services.
Continue Building Your Personal Brand with Our Best Tips. FREE.
Join our free newsletter for our best tips and strategies to become a superstar online. Whether if you're a blogger, coach, musician, or youtuber, you can take charge of your dreams. Use our insights and gems from years of consulting clients, corporations & celebrities.