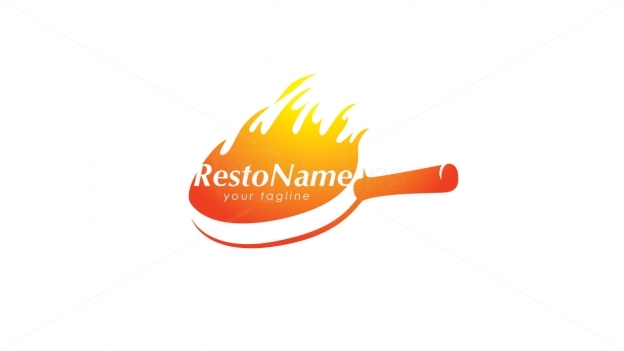 Logos for restaurants should convey the whole culinary experience of dining with you. The moment a person sees the logo, he or she should be indulged and imagine the type of experience that such restaurant would offer.  Common colors are usually red, orange, yellow and green. These colors appeal to appetites as well embody a festive mood. It is also common for these logos to have the images or representations of the specialty of the said restaurant. Here are some of the best logos that you can use to make your restaurant a sure hit.
*List compiled by staff writer April.
HELLO!
 Just FYI, the logos listed here are templates.  
If you need a custom logo to really make an impression with your brand or product, 
we'd love to create something for you.
Or, set up a design contest so designers compete to create the best design for you!
1) The red and orange hues really work well together. The general idea of the image is creatively fresh.
2) Fun, creative and interesting pizza image. Not just the usual pizza logo making it very unique and worth the attention.
3) Impressive integration of painting theme and pizza as the specialty. Playful font and good color combinations.
4)  Awesome blending of eating utensils with a nice, vibrant color.
5) Very attractive images with vibrant colors. Clean and professional font.
6) A stylish, minimalistic and colorful image. Definitely makes a statement with its play of colors.
7) Flaming hot! This image is definitely striking. Nice choice of hues from shades of yellow to red orange.
8) Elegant image with unique colors and shape angles.  Great for up scale, modern clubs and restaurants.
9) Interesting image for modern dessert restaurants. The urban concept is wisely integrated with the cupcake image. The combination and arrangement of shapes are really impressive. The colors match well.
10) Creative and playful font. Cupcake image isn't typical, and that's what you want in a logo. Colors are subtle but attractive.
11) Simple, elegant and classy. No further designs needed. This image definitely makes a statement. The details work well together as well as the colors.
12) Interesting and unique wine glass image through integration of vines and leaves. Definitely worth the second or even third look. Very pleasant colors.
13) Simple but standout image using the creative line style. Good color combination of gray and striking red.
14) Elegant color combination and militaristic images and details.
15) This is a very eye catching in it's shape and simplicity. It gives off a fresh vibe. The colors highly complement each other.
16) Modern cocktail representation made possible through the really creative integration of shapes and fiery colors.
17) This definitely stands out with its fresh and vibrant colors, clean and stylish image and highly professional font.
18) Simple but very attractive in various ways. The colors itself can already make this stand out.
19) Unique image with a striking color. With one look, your curiosity can already be triggered by this one of  a kind image.
20) Nicely cropped apple image.  Modern and professional image with very eye-catchy colors and shades. The text is properly integrated with the image.
21) The paint effect makes this really interesting and one of a  kind. It truly has an oriental vibe. The font is really unique and attractive.
22) Simple but very creative. Amazing how the chef image has so many details and even tells a story.
23) Simple image but made more interesting through the vibrant , eye friendly colors and classic font.
24) Simple, artistic but straight to the point burger image. Vibrant colors and interesting details.
25) A very cute caricature with fresh and vibrant colors, making the entire image truly eye-catchy.
Continue Building Your Personal Brand with Our Best Tips. FREE.
Join our free newsletter for our best tips and strategies to become a superstar online. Whether if you're a blogger, coach, musician, or youtuber, you can take charge of your dreams. Use our insights and gems from years of consulting clients, corporations & celebrities.