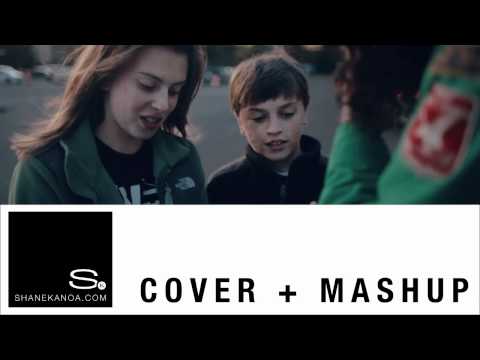 Shane Kanoa thought of this awesome Multi Cover Mashup while Henry Chen drove Shane, Diana Tang, Jourdan Quevedo, and I to Location #2 for Shane's music video series shoot.
I love the videos by Bad Lip Reading, but Shane didn't change the lyrics in this cover mashup (hence "cover").  So instead of Bad Lip Reading, it's more like Bad Lip Syncing!
The beat progression of the mashup meant the original music videos I used were out of sync with Shane's performance.  What to do?
Using Final Cut Pro X, I adjusted the speed here and there throughout this video.  Justin Timberlake, Travie McCoy, Neon Hitch, Kings of Leon, and Flo Rida look like they're trying to lip sync to Shane's mashup!
Can you tell where I made the edits compared to the original music videos?  And would you have thought to do a mashup this way with these 4 chart-topping hits? (Hint: Listen to the music progression from beginning to end).
Cry Me a River (Justin Timberlake)

Ass Back Home (Gym Class Heroes ft. Neon Hitch)

Use Somebody (Kings of Leon)

Club Can't Handle Me (Flo Rida ft. David Guetta) – from Step Up 3D Movie
http://www.youtube.com/watch?v=SgM3r8xKfGE&ob=av2e
Continue Building Your Personal Brand with Our Best Tips. FREE.
Join our free newsletter for our best tips and strategies to become a superstar online. Whether if you're a blogger, coach, musician, or youtuber, you can take charge of your dreams. Use our insights and gems from years of consulting clients, corporations & celebrities.