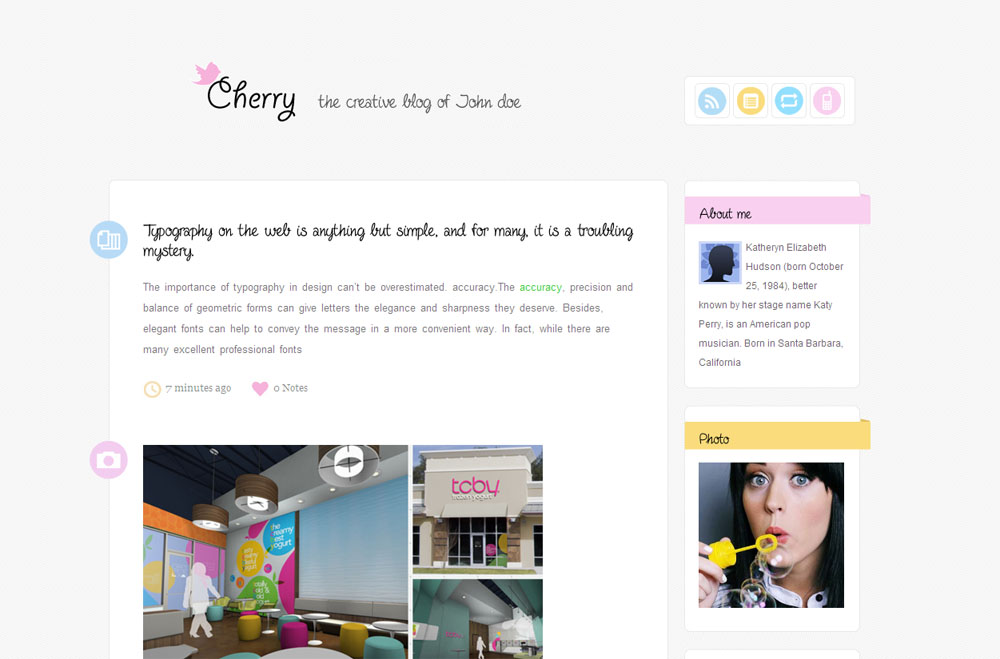 Make your Tumblr blog stand out with these cute Tumblr layout themes.  How do you feel today?  Choose a Tumblr website template that matches you.  Collect different templates and change it up as much as you'd like.  Let us know which ones you like best!
Getting serious about your site?  Move to your own domain name (web address) and get going.
Cherry by Pixify
Clean, colorful, and cute!
Essentia 2-in-1 Tumblr Theme by Tiny Giant Studios
Comes in 2 flavors: light and dark!  Special features to upload your own background and watch it float.
Diana Theme by Chloe B
Stylish vintage postcard layout for Tumblr blogs.  Add twitter, flickr photos, and more.
Vintage Sky by Kohette
Twitter birds, Fail Whale, and animated floated clouds?  Fun and awesome!
Button Theme by Simurai
Button and fabric theme.
Classic pink polka dot Tumblr layout.
Blue Moon by Sincerely-Marie
Another cute Tumblr Layout by Sincerely-Marie.  Like the Thinking of You layout except this one has a blue lacy background.
Chalkdust v.2.0
Chalkart Tumblr layout with tons of customizable colors and chalk font!
Colorful Space v2.0 by deshiknaves
Colorful neon bubbles Tumblr layout theme!
Retro European fashion style layout for Tumblr!  Love the color scheme and little icon elements.  Reminds me of the Coco Chanel movie!
Pink wallpaper and black layout for Tumblr blogs.
Fluffy simple theme for Tumblr blogs.
Simple pink stripes and white background layout for Tumblr blogs.
Champagne & Limousines
Pink layout with pink and purple leopard skin background.
Four illustrated pastel elephants. Says it all.
Tumblr layout with lots of pink and yellow heart flower patterns in the background.
grey
grey
Cotton Candy by christinetofu
Pink and white polka dots.
Purple ribbon bookmark and wallpaper Tumblr layout theme.
grey
grey
Summer Day theme by heloteixeira
Kiddie crayon stripes background layout for Tumblr blogs.
grey
grey
Love Love
Simple, handwriting font.
White Milk by ueberleben
Clean, white Tumblr theme with light gray diamond background. Milk it.
go CRAZY by jcquartz
Colorful simple Tumblr Theme!
Fiction by diverges
Simple Tumblr theme with cartoon illustrations
Theme Kitty by andrwreynolds
The internet is known for making cat videos famous.  Now go crazy with a cat Tumblr theme!
Continue Building Your Personal Brand with Our Best Tips. FREE.
Join our free newsletter for our best tips and strategies to become a superstar online. Whether if you're a blogger, coach, musician, or youtuber, you can take charge of your dreams. Use our insights and gems from years of consulting clients, corporations & celebrities.