Having your profile picture or avatar in Google Search next to your link can increase your clicks by 150%.  You may not be #1 in search results but having your picture there can draw people's attention to your link instead of any other link Google showed them!
The best part is, including your picture in Google Search Results is something anyone can do, so there's no excuse.  How do you do it?
It's called Google Authorship.

Pretty snazzy right?  Your link stands out.  Your picture shows authority and trust.  If you have a good reputation, people who have seen your picture on Google or other social networks will instinctively click your link because they already know you!  Your name is also shown as well as how many Google+ circles you're in.  The more Google+ circles you're in, the more social proof you have. So start growing those Google+ circles as well!
1. Add and Verify Your Email on Google+
Access your Google account info by going to https://www.google.com/settings/personalinfo
2. Add Your Website To Your List Sites You Contribute To
On the right side of the "About" page of your Google+ profile, there is a place to add "Contributor to" links. Link to your content from here.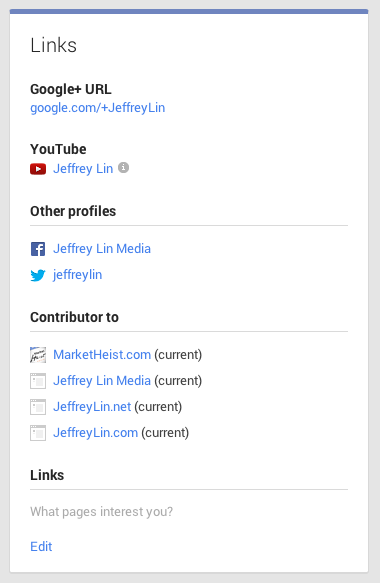 3.  Add Your Google+ Profile Link In Your Post, Include "?rel=author" After Link
Somewhere in author box at the bottom of your post, link to your Google+ profile, adding "?rel=author" in the link.
For example, my Google+ profile address is
https://plus.google.com/111189996156405552890
So, the link I would add in my author box in this post would be
https://plus.google.com/111189996156405552890?rel=author
4.  Verify Google Authorship is Set Up!
Use this tool by Google to check: http://www.google.com/webmasters/tools/richsnippets
Automatic Setup: for WordPress, Joomla, Drupal
If you're site is a self-hosted WordPress, Joomla, or Drupal (most popular blogging & website platforms), there are plugins to take care of Google+ Authorship in your author box for you:
WordPress: http://wordpress.org/plugins/authorsure/ (used on this site)
Joomla: http://extensions.joomla.org/extensions/news-display/content-infos/authors/22538
Drupal: http://drupal.org/project/socialmedia
Don't have a self-hosted site (you're using a free site like Blogger)?  It's probably time you got a self-hosted site.
For more, follow me on
Facebook: https://www.facebook.com/jeffreylinmedia
Google+: https://plus.google.com/+Jeffreylinmedia/posts
Twitter: https://twitter.com/jeffreylinmedia
Instagram: http://instagram.com/_jeffrey_lin_
Youtube: http://www.youtube.com/jeffreylinmedia
Continue Building Your Personal Brand with Our Best Tips. FREE.
Join our free newsletter for our best tips and strategies to become a superstar online. Whether if you're a blogger, coach, musician, or youtuber, you can take charge of your dreams. Use our insights and gems from years of consulting clients, corporations & celebrities.