You can sell anything to anyone online, and you can do it from anywhere. No more stores and rent and utility bills. Ok, so you've done your marketing by blogging, email marketing, and social media. Tons of people visit your site, but how well are you converting those visitors into paying customers? Unlike a real store or office, your website may not allow you to ever directly interact with your customer, answer their questions, and make the sale. However, many sites have started to use a marketing app that can help you convert those thousands of visitors into sales. This is what the Chatwing website chat widget is designed to do.
Chatwing can benefit online sellers in numerous ways from live support to feedback and more. Many websites embed Chatwing and interact with site visitors in real-time either to answer questions or talk about the site itself. This also lets sites offer a social shopping experince where many people can live chat about various products or items for sale. In some cases the website owner may offer a free prize, giveaway, or coupon code directly in the chat which boosts engagement, return visits and overall sales.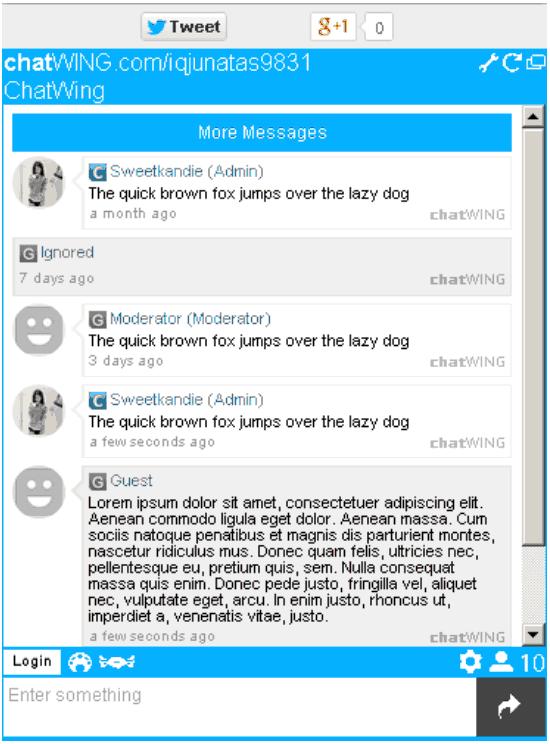 Installing the Chatwing tool can take less than a minute. You just need to visit the main website and start registering. In the registration process, you only need to input your email address and password.
After that, you can now create your first chatroom. In the creation, you can combine colors and various styles. It depends on your preferences. If you have a blog, you can match the design with the help of Chatwing's powerful dashboard.
Online selling requires serious marketing effort. Chatwing widget can help you attain that. The widget can be connected through Facebook, Twitter, Google, Yahoo, Instagram, and Tumblr. With this social media integration, you can be sure that the widget is exposed to many people.
In a nutshell, with Chatwing, you can easily connect with everyone. Your chatters, on the other hand, can also send out their replies just as easily. You're going to have some quick paced transactions while at the same time providing great customer satisfaction through this website chatting tool.
Continue Building Your Personal Brand with Our Best Tips. FREE.
Join our free newsletter for our best tips and strategies to become a superstar online. Whether if you're a blogger, coach, musician, or youtuber, you can take charge of your dreams. Use our insights and gems from years of consulting clients, corporations & celebrities.