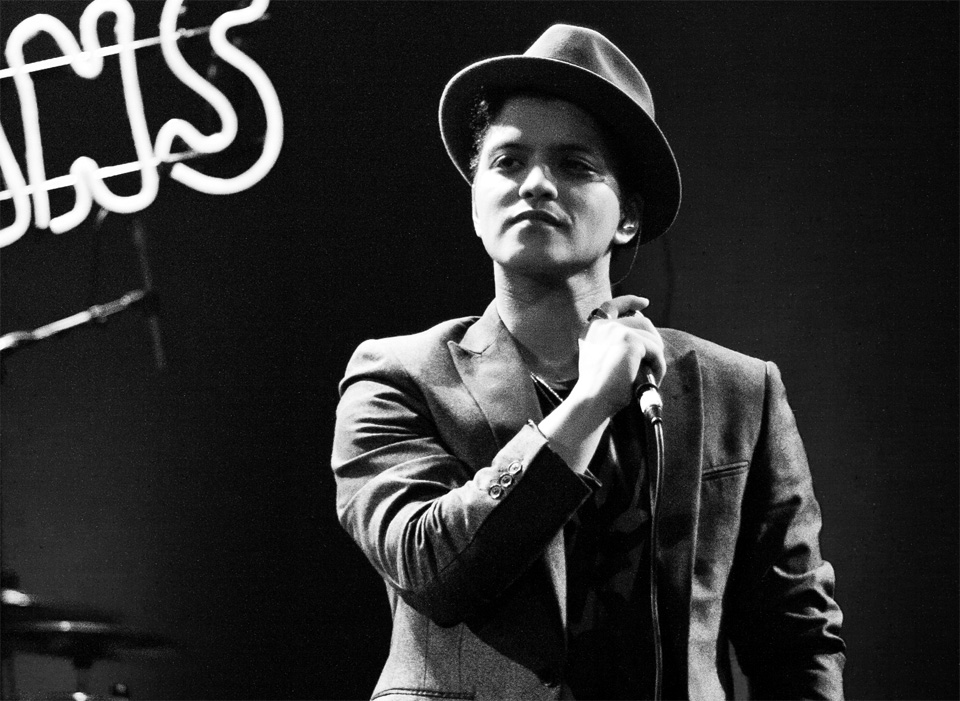 Bruno Mars' success story has always fascinated me and I love using it to teach people the steps for internet success.
How he turned himself from a decent record producer into a celebrity before he even had his own album is a path everyone can follow. This strategy basically guaranteed Bruno success with his own solo career.  It's a plan, with steps you can do.  Not just luck, though that always helps!
Bruno Mars is the most popular artist right now.  Headlining the 2014 Superbowl Halftime Show, he attracted a record audience of $115.3 Million!  His halftime show was only thing anyone talked about after the Superbowl.
But he didn't become famous with a hit song.  He worked behind the scenes as a music producer, totally unknown to the public.
Anyone trying to build a presence online has a lot in common with the young Bruno Mars: needing an audience.  Whether you're dreaming of selling music, products, or getting sponsors for your YouTube channel, you need an audience.
What's the smart way to build an audience?  The Bruno Mars way.  Here's how he did it.
Network With People In The Industry
Obviously, right?  You need other people in the industry to help promote you, vouch for you, and show you the ropes.
Before becoming a successful solo artist, Mars was an acknowledged music producer, writing songs for Alexandra Burke, Travie McCoy, Adam Levine, Brandy, Sean Kingston, and Flo Rida.
You may not network with big fish like these right away, but this is 2014.  You can connect with anyone online.  With social media, you'd be surprised at the powerful people you can meet.  In fact, many of them would be excited to meet you and work with you.
3 months ago, I had never met a professional dancer.  A few days ago, I filmed some top dancers from Hollywood who have gone on tour with the likes of Lady Gaga, Justin Bieber, and been in the Step Up movies.
Collaborate
This is Bruno's secret, but it's what most bloggers, YouTubers, etc, DON'T DO.
Bruno Mars collaborated his way onto the top of the charts.  He didn't let his ego get in the way of wanting it to be all about him.  He started out not being the headline name, but featured.
February, 2010. Bruno Mars sang vocals on the B.o.B. hit "Nothin' On You."  The song was nominated for three Grammys, including Record of the Year, on December 1, 2010 for the 53rd Grammy Awards.  That's when I first heard of Bruno Mars.
March 2010.  Without missing a beat, Bruno followed by singing vocals on Travie McCoy's "Billionaire," one of the most played songs of the year and topped the digital download sales.
With these 2 hits, Bruno Mars got his name out there.  Airplay on every radio station over and over.  TV interviews, live performances, and music videos introduced the world to how he looked as well.
He had his audience.  The world got to see him and hear his talent, and they liked it.
The Lesson: Collaborate with others in your industry.
Figure out what you can offer someone else and compliment their work so your combined efforts will be better than either of you alone.  Collaborate with someone with a bigger audience if you can.  But even if you're both starting out without a big audience, working together means you'll get each other's followers.
How can you collaborate?
Guest blog.  Write blogs for each other's site.
Guest videos.  Do Youtube videos for each other's channel.
Interview each other.  Written, audio (on a podcast or SoundCloud) or video (YouTube).
Do combined webinars.
Host events together.
Collaborate on writing eBooks.
Promote, link, share, tweet each other's content
Pretty simple, right?
I'd love to hear how you're collaborating on any project.  Let me know what you're up to in the comments below!
Here's some classic Bruno Mars for ya
For more, follow me on
Facebook: https://www.facebook.com/jeffreylinmedia
Google+: https://plus.google.com/+Jeffreylinmedia/posts
Twitter: https://twitter.com/jeffreylinmedia
Instagram: http://instagram.com/_jeffrey_lin_
Youtube: http://www.youtube.com/jeffreylinmedia
Continue Building Your Personal Brand with Our Best Tips. FREE.
Join our free newsletter for our best tips and strategies to become a superstar online. Whether if you're a blogger, coach, musician, or youtuber, you can take charge of your dreams. Use our insights and gems from years of consulting clients, corporations & celebrities.