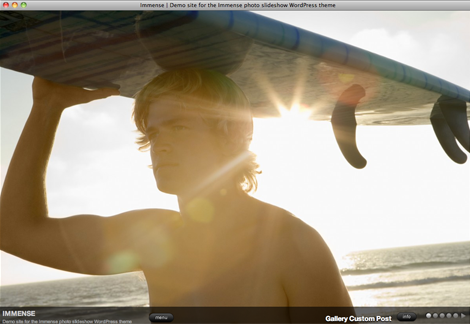 With this remake of DesignShop for my portfolio and random dump of everything creative-related, I wanted something eye-catching and simple.  What's more, I wanted a site that integrated wisely the use of awesome website UX (user interface) technology such as JQuery.  But with all the work developing, growing MarketHeist and adjusting to new treatments, where was I going to find time to design the new DesignShop site?
The simplest answers are always the best: go to ThemeForest and choose a ready-made WordPress theme for $35!  Yes, sadly this is the first time I'm not designing my own sites.  But there comes a time where the tradeoff to make a theme myself which I can buy for $35 is soooo not worth it.  Not even 1 ES point!  You can still view my old website design experiments (soon) in the portfolio section, with designs using HTML (written in Notepad), Flash, PHP and others.
For most sites nowadays, I really believe the photography has the potential to make the most impact.  So why not choose a theme that opens up the whole space to feature stunning photos?
This was my final choice for the new DesignShop theme.  Loved that it had open space around the menu and body area.  Also the variety of sleek gallery functions delicious.
Close second. The full background options included full-screen Youtube videos and Google Maps!  This has a minimalist designer or modeling portfolio theme.  Would be great for models, actors, and talent agencies.
Beautiful design and several impressive gallery option effects.  Also integrated fully with video, not just images.  And with the same title as my favorite poem, I just had to list it.
Another feature-stuffed full screen WordPress Theme with a bunch of shortcodes and preinstalled with 7 Cufon fonts for custom styling.
Ok, only the homepage features full screen portfolio slideshow backgrounds, but you have to take a look at the layout design for the blog, gallery, and portfolio sections!  A Tumblr-like format, but the attention to detail and carefully-photoshopped aesthetics is more the style I may have wanted to make myself!  Not to mention the inclusion of features to use with WordPress 3.0's new types.
One of the earliest Widescreen portfolio and gallery WordPress templates, this simple yet easy to use design has been around for a while and hasn't fallen behind the times.  Guess it was just ahead of it's time before other WordPress theme designers figured out how to make fullscreen picture gallery themes, and to make them well!
Simple and clean. Has a lot of the same feel and features as the Village theme by Theme Province above.
Optimized and designed for touch mobile devices like iPad, this theme is sleek, great usability and even wonderful small touches like a graphical countdown timer for each slide in the portfolio slideshow.
Talk about a minimalist photography portfolio!  There's not much in the way of various gallery and blog layouts, but the gallery background slideshow is stunning and mezmerising with it's unique square fading transition.  The main drawback is if you do want to write something, in the about page for example, the text is layered directly on top of the background and may be hard to read depending on the pictures you're showing off.  But definitely unique and aesthetic.  I would use this.
By the same designer as Photorific, this clean and minimal wordpress portfolio theme with well-integrated features both in style and technology such as javascript/JQuery, sidebars, widgets, and backend admin options.
Good idea and showcases the ability for full screen videos in the background.  However, lacks the clean and impressive slideshow navigation and gallery features the other themes above offer for the same price or just $5 more.
A WordPress Gallery and Portfolio template with fullscreen slideshow, fullscreen background, as well as many of the amenities you've come to expect from premium wordpress themes such as: templates for blogs, templates for gallery styles, short codes, fonts.  The placement of the content boxes, such as blog, page, and portfolio, isn't ideal in my opinion as it hides much of the background picture.
By one of the first WordPress template designers to make great-looking themes for photography and portfolios, Immense relies on simple yet effective features.  Great for those who aren't as familiar with web design, WordPress, or basic coding.
While the fullscreen picture slideshow is beautiful and easy to navigate, the full screen photo slideshow is just a way to view a gallery rather than a constant design throughout this wordpress template.  Other sections of the site such as the blog, page, and even gallery listings have a solid pattern background rather than choices of a picture slideshow or even video slideshow as the Village theme has.  However, depending on what you're using this for, this theme has more multimedia features integrated such as Youtube, Vimeo, .MOV, .MP4, .FLV and even MP3.
Continue Building Your Personal Brand with Our Best Tips. FREE.
Join our free newsletter for our best tips and strategies to become a superstar online. Whether if you're a blogger, coach, musician, or youtuber, you can take charge of your dreams. Use our insights and gems from years of consulting clients, corporations & celebrities.