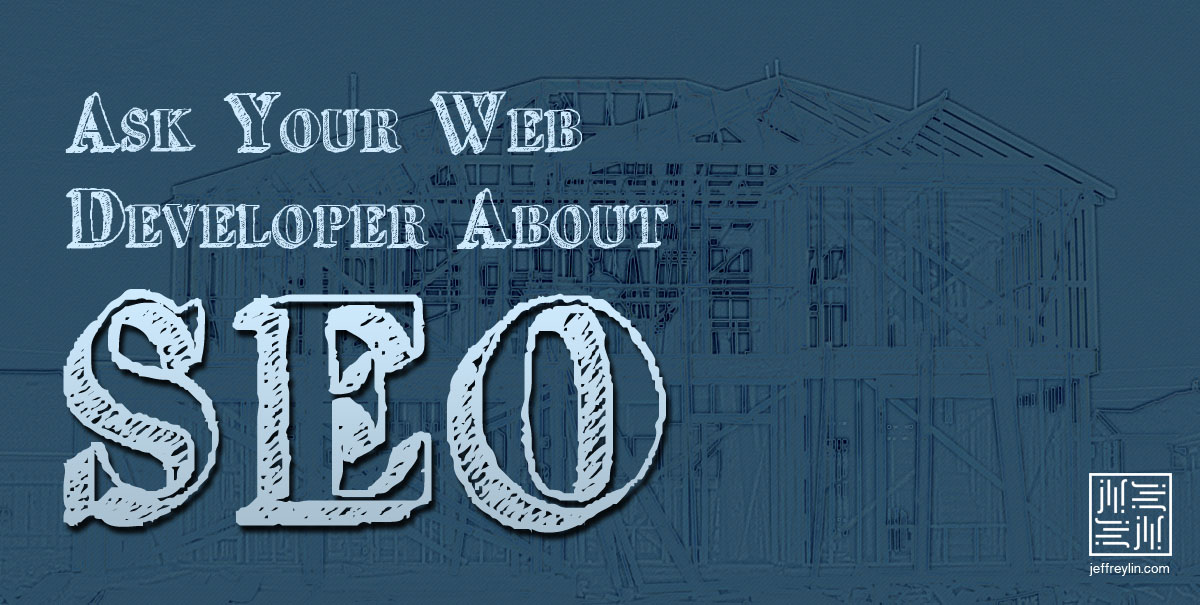 Is SEO only about how titles are written, how keywords are used in posts, and getting links? No.
SEO is as much technology as it is quality communication and marketing with your audience. SEO, aka "Search Engine Optimization" or what most of my clients think of as "easy for people to find on Google," has many aspects that must be built into the website. Whether you're building your own website or hiring a web developer, the technological aspects of SEO should be integrated from the start. I've dealt with many people who consider SEO an afterthought once their site has been operating for months or years…only to find out it'll require major overhauls of their site that costs valuable time and money.
If your web developer isn't experienced with SEO, being in a SEO consultant to work with the developer, or simply hire a developer who knows SEO as well.
Google and other search engines are, after all, computers. Your website also runs on computer servers. Part of getting your site to rank well is for your site technology to be up upgraded with the latest, fastest, and user friendly software. However, even more critical is your data structure. How your content is organized in databases. Having to change your data structure is not something fun, especially sites with lots of items like online stores. Also, social media and personalized search are requiring more technical SEO setups for your site from the get go.
Here are a few technological SEO aspects you should ask your site developer about:
SEO-Friendly URLs.  Search-engine friendly, unique url versions of your page title.
Proper Display of Titles to Search Engines.  Yes, titles are key for SEO, especially when attracting people to click on your link in Google.  Still, your website has to present the title to Google in the right format to do so.
301 Redirects.  Critical for when you move or delete content and items from your site.  Instead of getting bad ranking for having a broken site, 301 redirects will allow you to redirect the link juice and visitors from the deleted page to a new page.
Canonicalization.  Multiple URLs for similar or same content can confuse search engines and drop your rankings.  Canonicalization correctly index and rank content that can be viewed using multiple URLS:
/category/this.php
/category/this.php?sort=price
/category/this.php?sort=price&order=desc
Navigation Structure.  Navigation or menu structure, when done right, lays out your whole site for search engines to understand what's there.  It is even more critical to have user friendly menus to allow users to get around your website.  The easier it is for people to browse within your site, the longer they stay, and the better your ranking is (because people have voted for your site with their time).  Make sure your menus follow at least these rules of thumb:
Site can be navigated without Flash or JavaScript
Primary navigation links are text, not images
Minimize use of duplicate and extra links
Navigation menus can be edited at the individual link level.
Robust Taxonomy (Catergorization/Organization) Options.  Plays into data structure.  Well organized categorization and tagging systems can nearly automate your keywords and internal site links, which is what everyone thinks about when SEO is mentioned.
Automated XML Sitemaps.  These watered down versions of your site gives search engines a quick and easy way to index and store most of your site for people to find.  This is how you submit your site to search engines in this day and age.  Make sure XML sitemaps are submitted to Google Webmaster and Bing Webmaster and pass with no errors.
Google Analytics.  Allows you to track significant details about your visitors as well as giving Google extra insight into your site, what it's about, and who spends the most time on it.
Robots Meta Tag/Robots.txt file.  The robots noindex meta tag allows to you show or hide pages from appearing in Google search results.  Often the ability to hide low quality pages from Google will boost your rankings instead of getting pulled down by them.
OpenGraph Data.  This allows those fancy preview snippets (thumbnail, title, description) on social media sites to appear when someone shares your link.
Custom Landing Pages.  Specially designed entrances to your site where you focus links and keywords.  If you're like most active sites, you'll have thousands if not millions of posts, content, and products.  It is impossible to drive high quality traffic to all of those areas of your site.  Custom landing pages such as sales pages are created where you drive traffic from specific demographics or segment of viewers you want to reach so that you can introduce these viewers to your numerous posts and products.
Blog.  Since Google has consistently recommended content marketing to build presence, links, and ranking.  A blog is an essential tool in the SEO's arsenal. Whether if your site is for business or personal use, it should always include a blog, complete with commenting, social sharing, anti-spam and RSS feed features.
Continue Building Your Personal Brand with Our Best Tips. FREE.
Join our free newsletter for our best tips and strategies to become a superstar online. Whether if you're a blogger, coach, musician, or youtuber, you can take charge of your dreams. Use our insights and gems from years of consulting clients, corporations & celebrities.