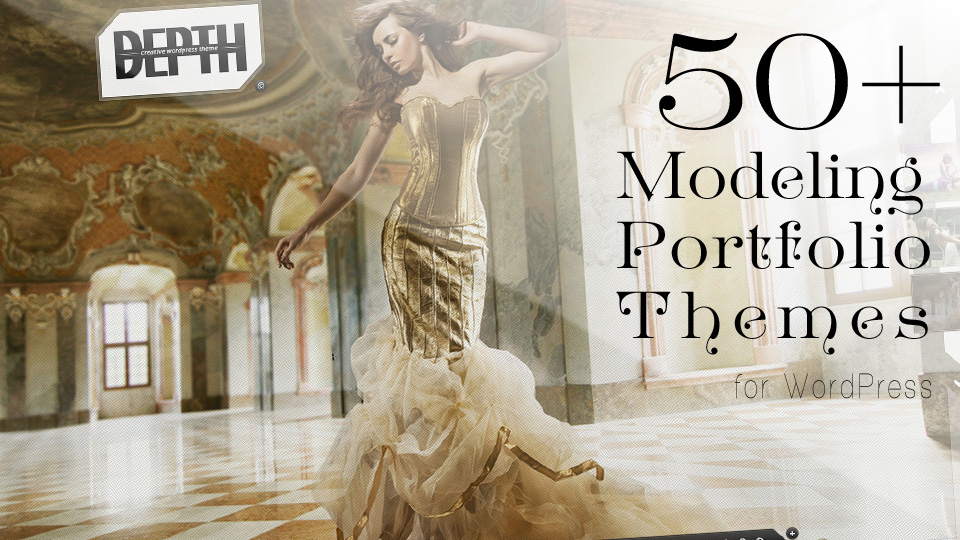 You can't wait for your agency to set up a professional website for you.  Claim your own celebrity status with a full on glamourous presentation of your work and ultimately, yourself.  Your own website is the only presentation you have full control over when people Google search your name.  Yes, Facebook Pages, Twitter, and Model Mayhem portfolios are a must, but everyone else has those too.  If you can work a Facebook Page or Tumblr, you have the skills to set up your own supermodel-grade website with one of the themes we've hand selected below for our modeling clients.
These are Designer WordPress themes, which means you're using
 Stunning Full-Screen Portfolio Showcase
Thousands of Fonts
Unlimited Colors and Styles
 Mobile-Ready Design for ANY Device (Responsive Design).
 Youtube, Instagram, SoundCloud, and Twitter easy embed
Thousands of Plugins to Add Social, Forums, Stores, Galleries
Getting started is super easy.
Just get a HostGator account.  The support staff will install WordPress for you for free.
Download as many of the themes below as you want. Upload and install.
Grab any of the thousands of free WordPress plugins.
Customize your portfolio, blog, etc and you're looking like a supermodel.
1. Brooklyn – Creative Responsive WordPress Theme
Brooklyn is a 100% responsive HTML5 theme. Brooklyn offers a variety of hover effects, full width sliders, portfolio grids, contact form with honeypot spam prevention. Brooklyn is the right solution for photographers or bloggers with its different skins, professional options panel, HTML5 background video & touch support and shortcode assistant.
Details
Demo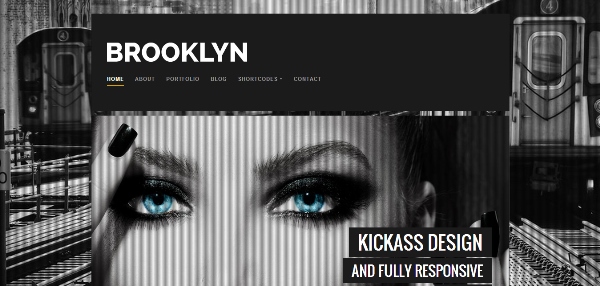 2. FLEXIT – Theme for Photographers and Portfolios
FLEXIT is a responsible theme specially designed depending on image based portfolios. It is possible to customize theme colors with the flexibility of the theme. Some of the stunning sides of the theme are, custom page backgrounds, powerful shortcodes, vertical shadow effect, mega footer and quick free support for clients.
Details
Demo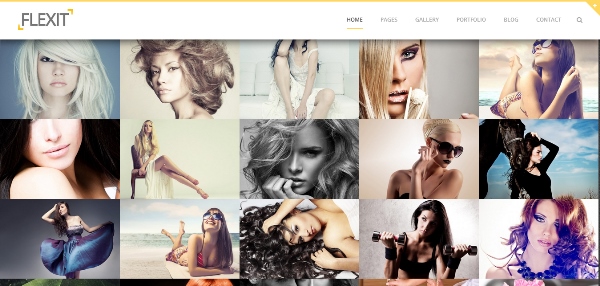 3. Brooklyn – Creative One Page Multi-Purpose Theme
This theme offers three demos for the customers to see all the features. Brooklyn is fully responsive with fullscreen slider and Youtube video, unlimited color options, variety of shortcodes with a shortcode generator, multiple sidebars, and widgets for Twitter, Flickr and easy management.
Details
Demo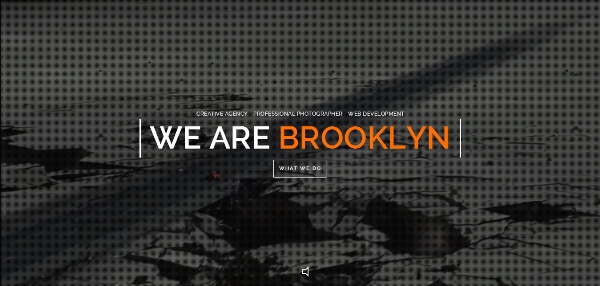 4. Focal – A Responsive Photography Theme
Focal is a responsive portfolio theme for photographers. Focal offers visual customization for the page, including variety of colors and other options. With Focal, photographers will have custom widgets for Flickr and posts, social media links for the footer, fully translatable language files and support services from an Elite Author.
Details
Demo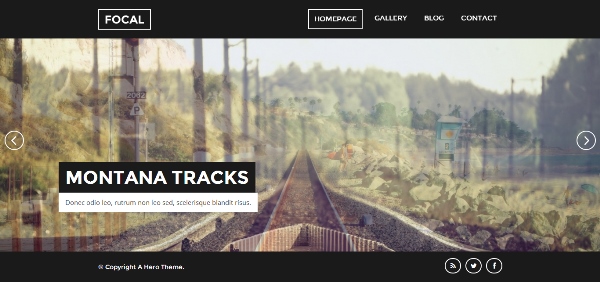 5. Gazelle – Responsive AJAX Portfolio and Blog Theme
Gazelle is a professional portfolio and blog theme with a very smooth horizontal scroll. It is 100% responsive, SEO friendly, very easy to customize with its unique gallery design. Gazelle has color and font customization, background pattern selection from 25+ options. This theme also provides easy configuration options for users.
Details
Demo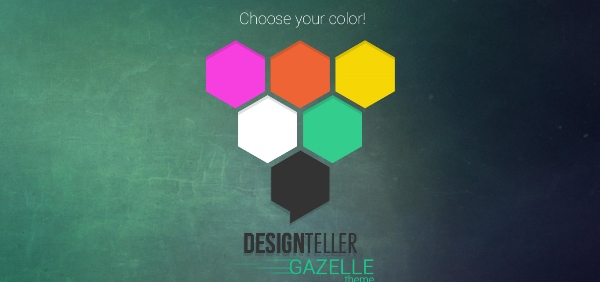 6. Mercury Responsive Portfolio Photography Theme
Mercury for photographers is a fully responsive theme with black and white skins, Drag & Drop content builder, instant AJAX search and 20 gallery templates and 6 portfolio templates. Mercury also offers off-canvas mobile navigation, advanced theme admin and 2D/3D layer slider ($15).
Details
Demo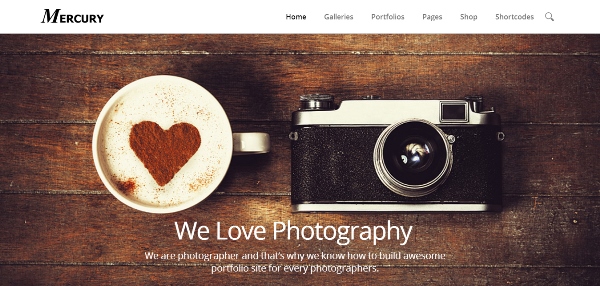 7. Everest | Responsive Portfolio WordPress Theme
Everest is a fully responsive HTML5 theme for photographers, freelancers and agencies. Everest has full/fixed width portfolio grid, super cool hover effects, fullscreen backgrounds, attractive captions, styling options and full width sliders with touch support. With Everest you can get unlimited skin options, shortcode assistant and easy-to-use options panel.
Details
Demo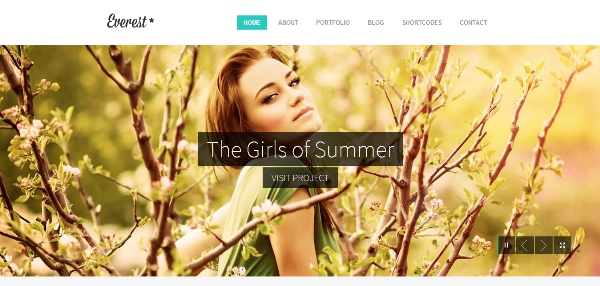 8. Cartel | Responsive Portfolio WordPress Theme
Cartel is a 100% responsive HTML5 theme, suitable for freelancers and design and photography studios. By using Cartel, you will have access to a masonry gallery, awesome hover effects, fullscreen backgrounds, full width sliders with touch support, many captions, styling options and unlimited number of skins.
Details
Demo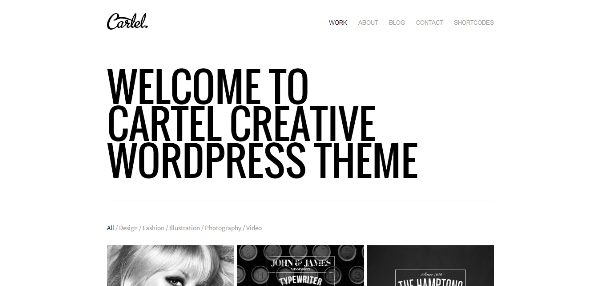 9. Exposed – Responsive WordPress Photography Theme
Exposed is the right choice for the photographers and artists who depend on portfolios to show their work. This fully responsive theme includes advanced theme options, AJAX gallery along with 12 built-in gallery pages, drag & drop page builder, custom widget, font selectors and different skins to suit your every needs.
Details
Demo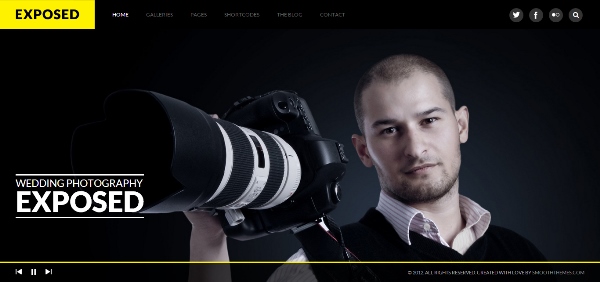 10. Dynamix Retina Full Screen Background WP Theme
Dynamix is a responsive, fullscreen background WP theme. Best part about the theme that it comes in 7 different types of backgrounds including; video background, CSS3 animations, ken burns, flip gallery, slideshow background, vimeo/youtube, and static image. Dynamix also has a variety of choices to optimize your website.
Details
Demo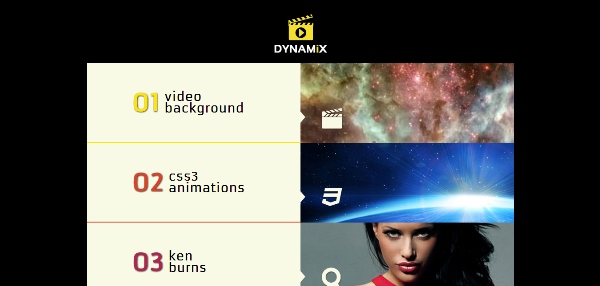 11. Nero Responsive Portfolio Photography Theme
Nero is a very clean and modern theme for portfolio and photography websites. It is fully responsive with 14 gallery and 10 portfolio templates. Users have the chance to customize the color layout and the skin. Nero also has fullscreen slider, social media support, built-in shortcodes and music support.
Details
Demo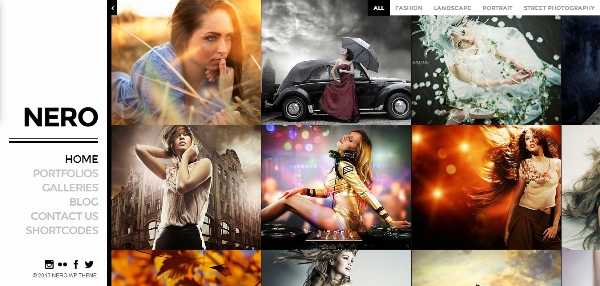 12. Photoreel – Elegant & Responsive Photography Theme
This minimalistic and elegant theme is fully responsive and designed for photographers, creatives, businesses and portfolio pages. Photoreel offers professional admin panel, unlimited color options, sliders, social media section and also 7 different post formats (standard, video, audio, gallery, image, link, and quote).
Details
Demo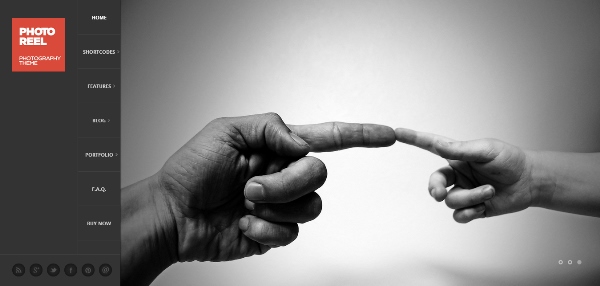 13. Fuse – Responsive Portfolio & Blog WordPress Theme
Fuse is a responsive theme for photography, blogging, graphic design and small agencies. Fuse is very easy to use with its professional shortcodes and simple admin panel. SEO and strong social media integration are the best parts of the theme. Fuse also has sliders, built-in pages and 8 templates.
Details
Demo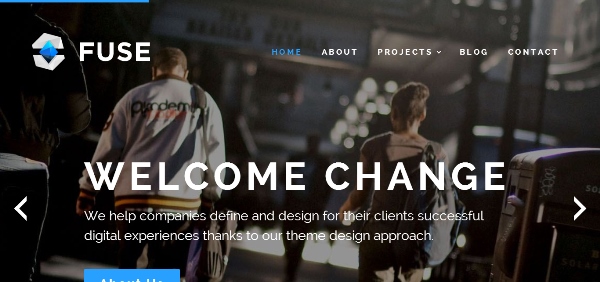 14. Nicanian II – Responsive WordPress Theme
Nicanian II WordPress theme is enhancing the experience. It is a responsive theme running on Plazart Framework with Portfolio. You can choose a background of video or image. Nicanian II is easy to install, it can display videos, sliders or images with AJAX Infinite scroll and jQuery plugin.
Details
Demo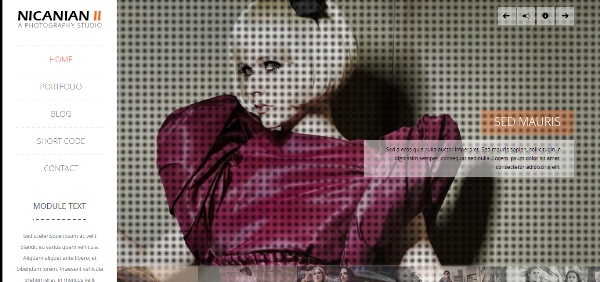 15. PURESTUDIO – WordPress, One Page Parallax Theme
PURESTUDIO is a fully responsive, easy to install and use theme with separate blog pages and fullscreen slider. It also has valid HTML5 and CSS3, customization options with color and google fonts, social media widgets, comment and contact form. Theme is compatible with different browsers (Chrome, Opera, Firefox, Safari, IE).
Details
Demo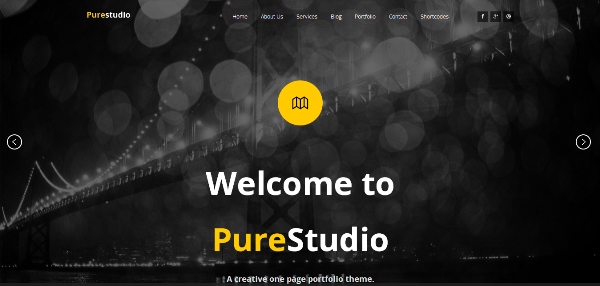 16. Pitch Creative Showcase
This fully responsive and retina ready theme is perfect for photography and portfolio to share your work in an awesome way. Pitch has 8 page templates, full screen & responsive slider (image & video supported), many shortcodes, contact form, google map, blog options, detailed documentation and easy-to-access support system.
Details
Demo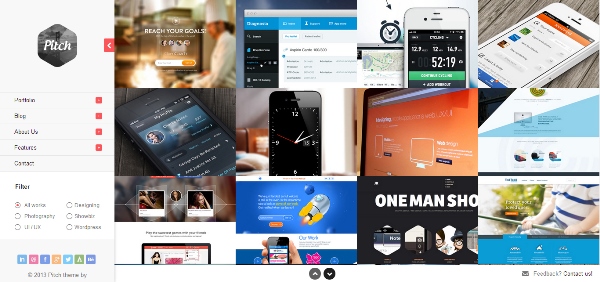 17. Wildhorn – Full Screen, Responsive & Retina
This full screen, retina ready theme is designed for multimedia contents. Some of the features of the theme are, no browser reload while switching pages, different page templates and language files, HTML5 music player, and the option to customize colors and fonts.
Details
Demo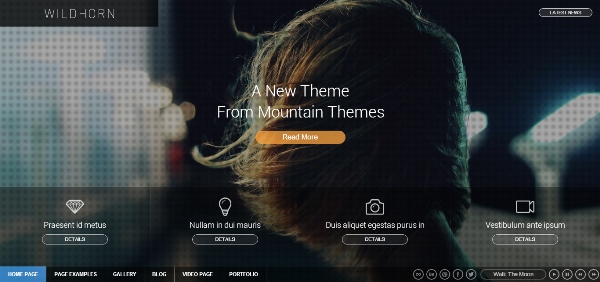 18. Acid- Unique Horizontal Blog and Portfolio Theme
Acid is a very flexible and responsive theme. You can use it with metro design or one-page only design. Acid offers horizontal scroll, tons of color options for the page, many font icons, widgets for sidebar and footer, shortcodes and post-to-post navigation.
Details
Demo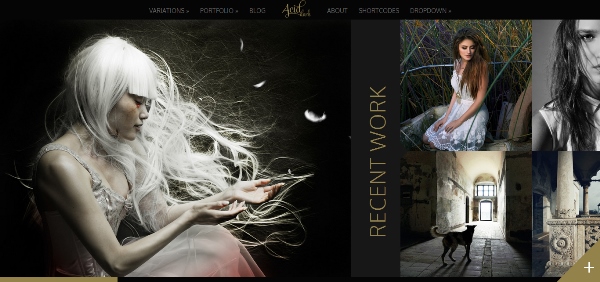 19. Ego Onepage Parallax Responsive WordPress Theme
Ego is a fully responsive, one-page theme which is amazing for showing the works of freelancers or design studios. Ego has unlimited skins, AJAX portfolio with deep linking, AJAX contact form, different slider options, Parallax background images. Ego is also supported by all the major browsers.
Details
Demo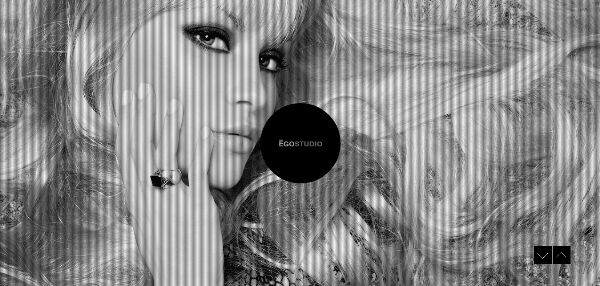 20. Fuji – Full Screen, Responsive & Retina Ready
This innovative and responsive theme provides a modern and clean look for your website. With Fuji, you will avoid browser reload while switching pages, get a HTML5 music player, many colors and fonts for your needs, different templates for your pages and effective control panel.
Details
Demo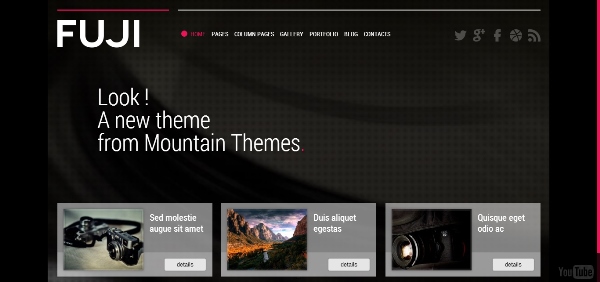 21. Depth – Full Screen AJAX Portfolio WordPress Theme
Depth is a great theme for creative website with blog, portfolio and galleries. Some of its features are, it is SEO friendly, it has unlimited portfolio and galleries pages, full screen sliders, 8 page templates, 9 custom widgets, many social media icons and social media like buttons for items.
Details
Demo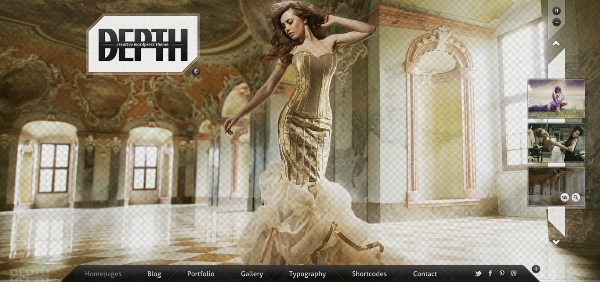 22. Studiofolio: A Versatile Portfolio and Blog Theme
Studiofolio is a versatile, fully responsive theme. Studiofolio offers many portfolios and galleries, fluid or fixed size layout, different blocks size, customizable space between blocks, different menu positioning, different page layout settings, multiple post formats, easy-to-use admin interface and a support forum for the customers.
Details
Demo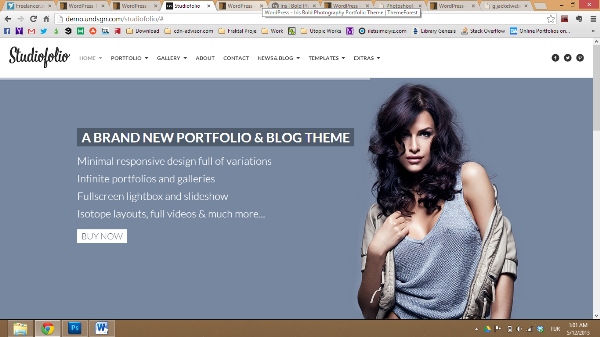 23. Iris Bold Photography Portfolio Theme
Iris Bold is a flexible and fully responsive theme and it is perfect for photographers to showcase their work with style. Iris Bold has 8 different gallery templates, skin manager for your taste, video, audio and music support, social media support, 7 custom widgets and private gallery.
Details
Demo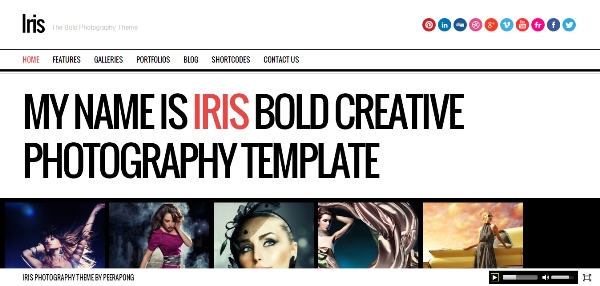 24. Photoshoot – WordPress Creative Portfolio
Photoshoot is perfect for creative and corporate portfolio websites. The unique design of the theme combined with amazing features will do the work for you. Photoshoot has ten section types, AJAX powered blog, custom lightbox, support for SEO links and Back/Next browser buttons.
Details
Demo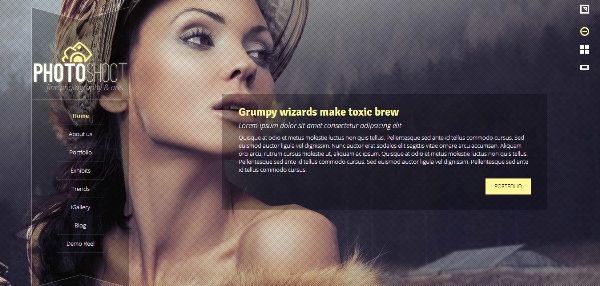 25. G – Responsive Portfolio WordPress Theme
G is a minimal WordPress theme for photography and video portfolios. G is fully responsive and HTML5 and CSS3 validated. Moreover, it has video tutorials, video support for Vimeo and Youtube, 6 different layouts, also for mobile and tablet, unlimited colors and various theme options.
Details
Demo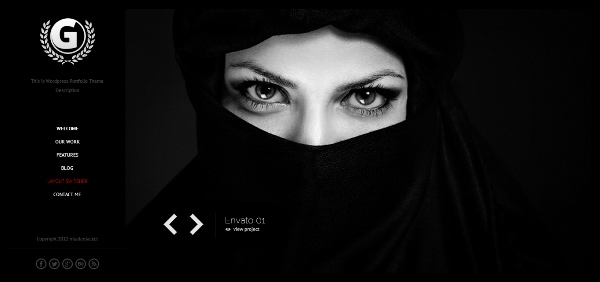 26. Artemis Photography Gallery Portfolio Theme
Artemis is a responsive portfolio theme for photographers. Artemis offers 8 homepage gallery options, 7 gallery, 3 portfolio templates, 300+ google web fonts, music and password protection support, many shortcodes, social media integration, unlimited sidebar options and contact page with google map support.
Details
Demo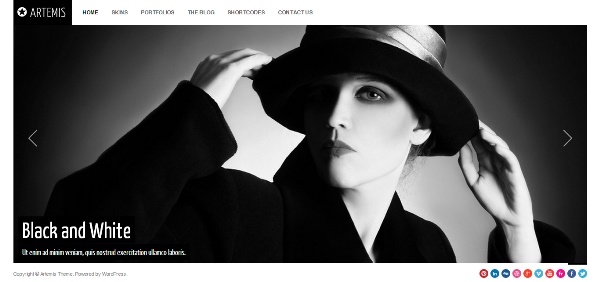 27. Feather – Responsive Portfolio WordPress Theme
This responsive theme is amazing to create your showcase of your works as creative agency, freelancer, or business. With Feather, you will get, flexible portfolio options, fullscreen image front page & fullscreen gallery, many color options and widgets, SEO optimization, shortcodes, social links module and many other great features.
Details
Demo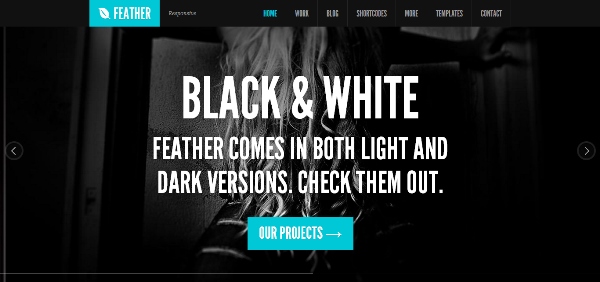 28. Expression Photography Responsive WordPress Theme
Expression is a great theme for photographers and artists who need an impressive portfolio showcase for their work. Expression offers a fully responsive design, unlimited options of skins, easy font management for users, different post formats, easy-to-change page layouts and AJAX contact form.
Details
Demo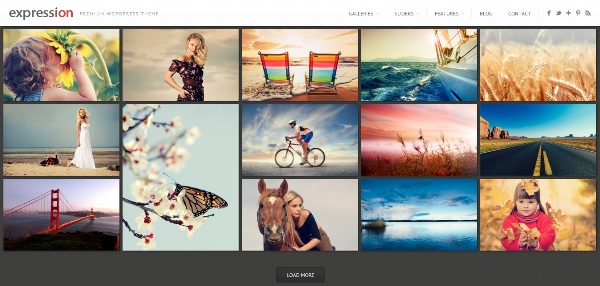 29. Darx – Responsive Dark Portfolio WordPress Theme
Darx is an awesome portfolio theme for your needs. You can get full width and 960px wide portfolio, 4 custom widgets, 2 homepage and 2 portfolio layouts, 2 homepage and 4 post templates, 70+ shortcodes, filterable portfolio items and Google web fonts.
Details
Demo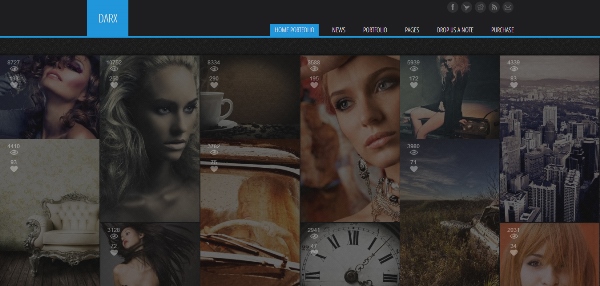 30. Selene – Fullscreen Premium WordPress Theme
Selene is a responsive and fullscreen WordPress theme. By using Selene you will get to use 18 page templates with unlimited colors, filterable portfolio and SEO optimization. Also Selene offers, many shortcodes, social media icons, different blog layouts, pricing table and contact form.
Details
Demo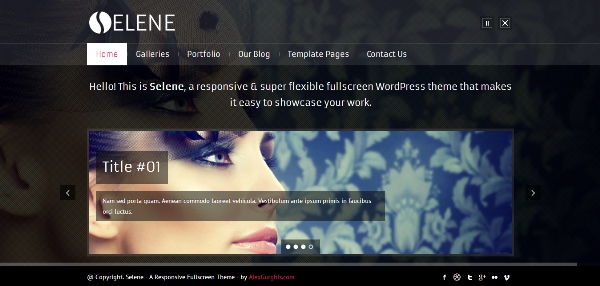 31. Incidental – High Class Photography WP Theme
Meet this amazing theme for photography. Incidental has a completely responsive design with 9 different background overlays and drag drop page builder. Incidental is localization supported and SEO optimized. The gallery is very flexible and users will find many background options.
Details
Demo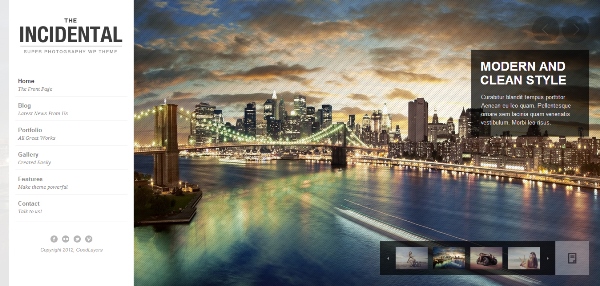 32. Nostalgia – Portfolio WordPress Theme
Nostalgia is a minimal, fully customizable WordPress theme for portfolios. This theme is based on fullscreen slider and sliding pages. Nostalgia is jQuery powered with valid XHTML code. You can get access to color picker backgrounds, different blog and portfolio templates, about and services page templates and contact form.
Details
Demo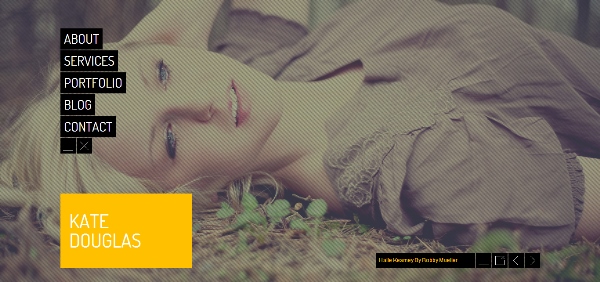 33. Cesare – WP Full Screen Portfolio Theme
This fully responsive theme is perfect for portfolio. It is amazing for beginners since it is easy to set up. With Cesare you will get, fullscreen home or portfolio page, slider down menu, different skin and color options, customizable sidebars, social media integration and free support and updates.
Details
Demo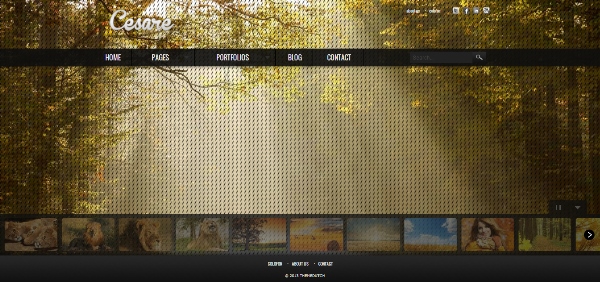 34. Royale' Creative WordPress Theme
This creative theme will help you show your photographs and videos in the best possible way. By using this elegant theme you will get a color picker to customize the layout, visual shortcode editor, custom built sliders, selection of 100+ fonts, video support and custom sliders.
Details
Demo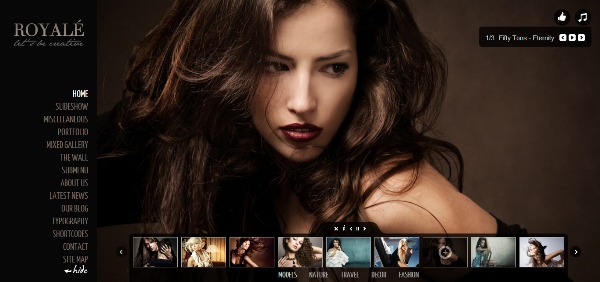 35. PhotoPharm: Premium Photography and Blog Theme
PhotoPharm is a theme designed specifically for photographers and design studios. PhotoPharm uses a fullscreen slideshow for increased impact. PhotoPharm offers different skin options, unlimited color options, arrow key support, easy logo customization and WordPress menu support.
Details
Demo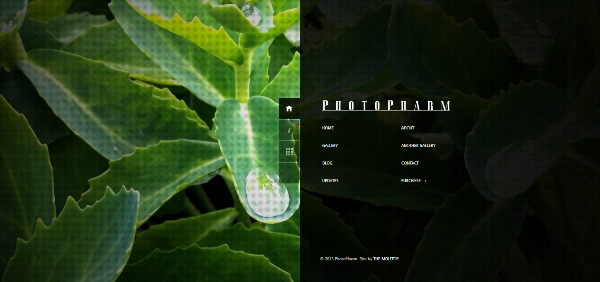 36. Architectos – Blog & Portfolio WordPress Theme
Meet the perfect theme for architectures, design oriented blog pages and creative people and agengies to share your work. With Architectos, you will get a wide selection of layouts, custom widgets, video support, fullscreen background slideshow, custom elements for tabs, sliders, buttons and many more.
Details
Demo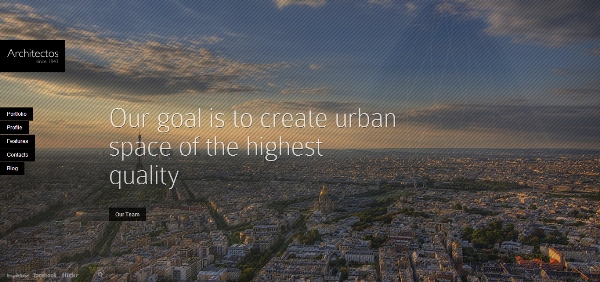 37. Slash WP
Slash WP with its unique modern design, will serve perfectly for portfolios, photo galleries and blogs. Slash WP offers Masonry layout, sortable portfolio & photo gallery, documentation, FAQ & professional support, fullscreen slideshow & video, blog with 3 post formats, 8 custom widgets and rich customization options.
Details
Demo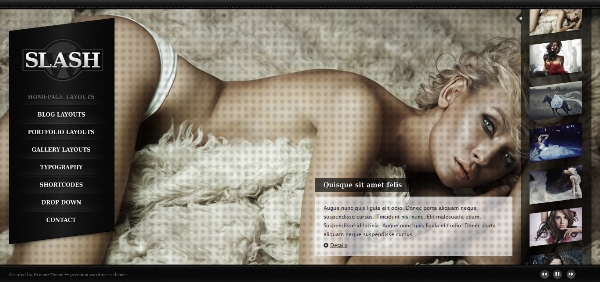 38. Panorama Fullscreen Photography WordPress Theme
This theme is easy to use and amazing for photographers or other wide graphic works. By getting Panorama, you will have access to fullscreen photo slideshow, blog, background pattern theme option and fullscreen background Youtube video options along with many other features.
Details
Demo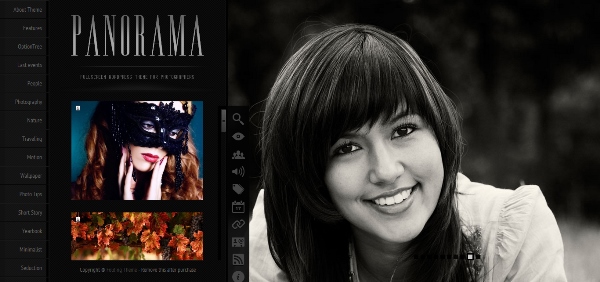 39. Chocolate WP – Responsive Photography Theme
Say hello to this amazing, fully responsive theme. Chocolate WP offers powerful galleries, 2 fullscreen slideshow, 3D slideshow, video homepage, masonry layout with 3 column sizes, rich customization options, premium-class support, 9 useful custom widgets and Woo Tumblog-powered post formats.
Details
Demo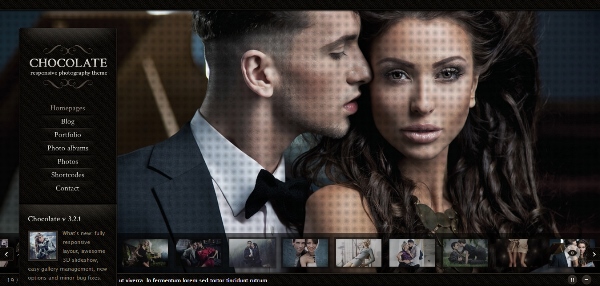 40. ANAN – For Photography Creative Portfolio
ANAN is an up-to-date photography, portfolio, personal website theme. ANAN offers the users 8 custom widgets, 4 portfolio styles, 30 header fonts, unlimited colors, many built-in shortcodes and shortcode generator, custom post type support for portfolios, unlimited sidebar, WordPress custom menu support, and many other features.
Details
Demo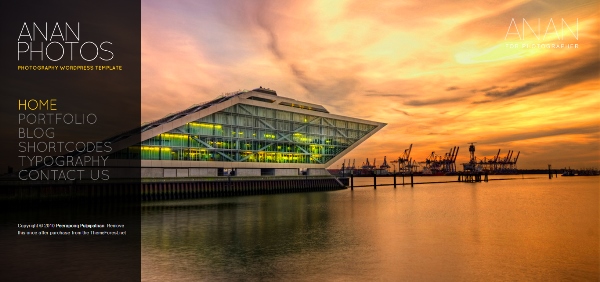 41. Pace – Stylish Portfolio and Blog WordPress Theme
Pace is a very attractive theme designed for photographers and bloggers. It is fully responsive, easy to manage and compatible with WooCommerce. Pace also has a stylish portfolio and blog, multiple media support, many shortcodes and shortcode generator, unlimited color options and it is built with HTML5 and CCS3.
Details
Demo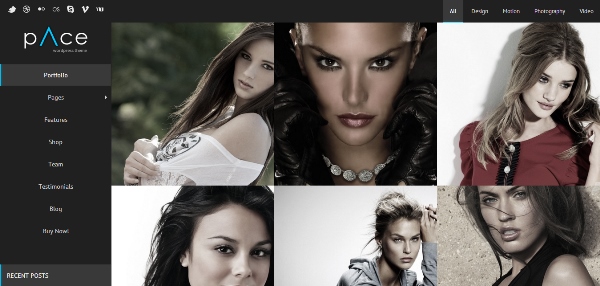 42. Insignius
If you wish to mainly use images for your website, Insignius can be your answer. This theme focuses on large images instead of content areas along with amazing effects. With Insignius, you will get fancy CSS3 animations, easy color and font selections, compatibility with crossbrowser, multiple shortcodes and contact form.
Details
Demo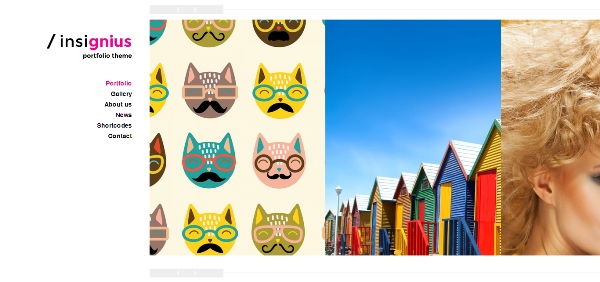 43. Apollo, A Feature-Rich Showcase Template w/ Built-In Newsletter
Apollo is a responsive and powerful showcase theme designed for your needs. Apollo offers, unlimited colors, customizable layouts, touch ready slideshows, shortcodes, Google mapping, Instagram integration, two column design, pricing charts, retina icons, Mailchimp Newsletter feature and slide out contact forms.
Details
Demo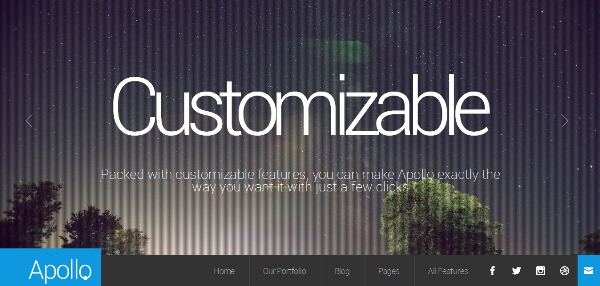 44. Ilaria Premium WordPress Theme Photography
Ilaria is amazing for agencies, freelancers, designers and artists. With Ilaria users gain access to fully responsive design, home images grid, sortable portfolio, many shortcode elements, selection of page styles, Bootstrap framework, sidebar options, starter kit and simple localized files.
Details
Demo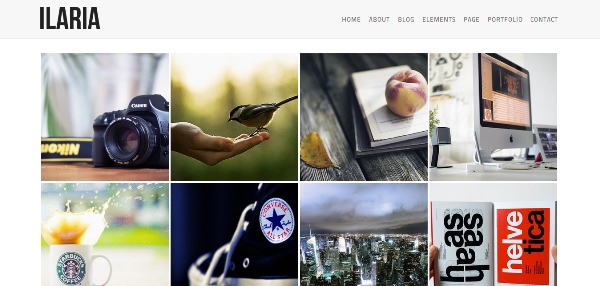 45. Suheto – Responsive Fullscreen Photography and Portfolio WordPress Theme
Meet Suheto, the responsive, fullscreen image background slider theme for photographers and designers. Suheto offers a selection of light and dark skins, unlimited color options, google fonts, easy-to-use options panel, gallery manager and drag & drop management for slider.
Details
Demo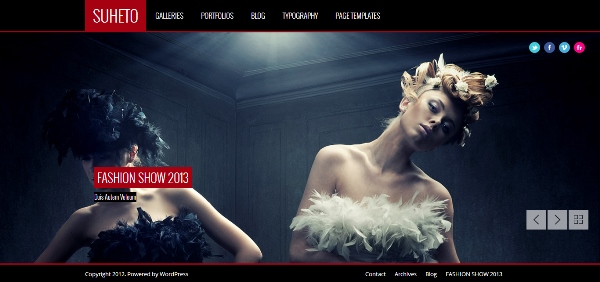 46. Landscaper – Fullscreen Business WordPress Theme
Landscaper with its modern and fresh look is perfect for you. It provides the users with 100+ shortcodes, 500+ fonts, 16 custom widgets, 3 different sliders, tons of sidebars, schemes, portfolios and galleries, various templates, pricing tables, AJAX contact form and integrated like plugin.
Details
Demo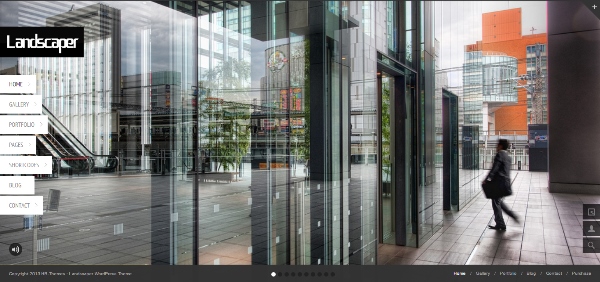 47. James 2.0 – Responsive Full Screen Portfolio Woocommerce Theme
James 2.0 offers a great way to present your portfolio or manage your online store. It is compatible with all devices, integrated with WooCommerce 2.0 and offers easy customization for you. It has numerous features in order to impress your visitors.
Details
Demo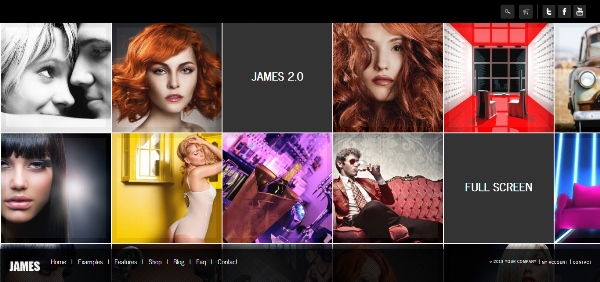 48. Gnarly – Responsive Photography WordPress Theme
Gnarly is an ultimate theme to fascinate your visitors while they browse your portfolio and read your blog. As well as many options and features it offers in order to satisfy your needs, it offers dark and light skin. It is fully responsive and retina ready.
Details
Demo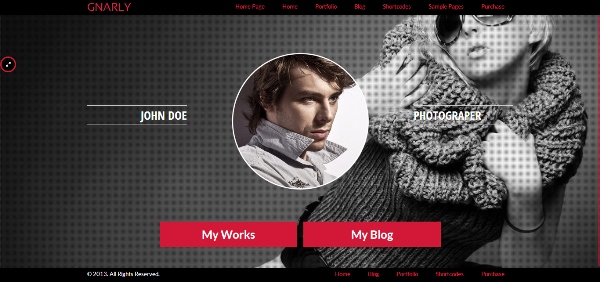 49. Photogé: Portfolio and Photography Theme
If you are looking for classy way to present your portfolio, Photogé theme would be a good choice. It offers different home page alternatives with built-in layout options and various useful shortcodes. You can also manage your photographs in multiple galleries.
Details
Demo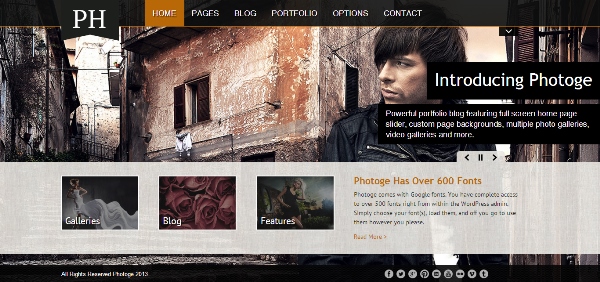 50. Preme – Fullscreen Responsive Portfolio WordPress Theme
Preme WordPress theme offers simple yet useful design solutions for your portfolio. It is fully responsive and retina ready. Drag and Drop portfolio builder options, customizable skins and custom slider options makes it easy to configure. Comprehensive documentation and support forum of the developers is a big plus.
Details
Demo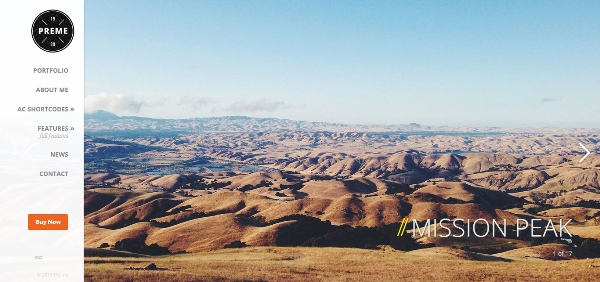 Continue Building Your Personal Brand with Our Best Tips. FREE.
Join our free newsletter for our best tips and strategies to become a superstar online. Whether if you're a blogger, coach, musician, or youtuber, you can take charge of your dreams. Use our insights and gems from years of consulting clients, corporations & celebrities.