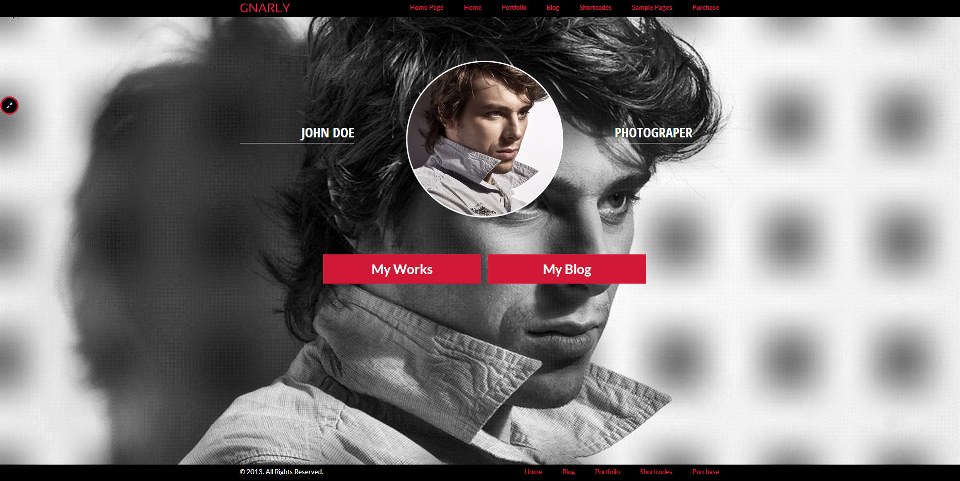 Remember.  In a world of internet videos and Mobile, your web presence may be more important than in person auditions.  Talent scouts and directors are discovering performers online instead of in person.  Your acting website needs to bring it!
An acting career and an excellent personal website go hand in hand. Not only does it increase your job prospects, but it's the place fans flock to get all the juicy details on you. If you are not yet reeling in the millions, your first thought is a DIY project. However, if you do not have any creative, designing or programming skills, then you should forget that thought.  Save yourself time and embarrassment.
Hiring a web designer to do the job will be an investment well made, but if you do have the requisite skills, there's no need why you shouldn't make an attempt.
Check out our Top 50 WordPress Website Designs for Actors & Actresses.  Just plug & play in 4 steps.
Don'ts for Actors' and Actresses' Personal Websites
Whatever you decide to do, here are the top five mistakes you should avoid on your website.
Amateur Designs: Your personal website is a reflection of you, so cheap-looking amateur designs are a no-no. To be on the safe side, ensure that you peruse the portfolio of the web designer you are hiring. That way you will have an idea of his abilities and what to expect.
Updates in Third Person: There is nothing lamer that third person updates on personal websites. It's like you are talking about someone else and it's the best recipe for disconnecting with your fans. Third person updates are aloof, fake and uninteresting. The exception to this rule though is your bio.
Using Arrogant Language: It's been said that the biggest challenge after success is shutting up about it. And one sure way to turn off visitors to your personal website is using arrogant and ostentatious descriptions in your bio. All you need though are the facts- nothing more and nothing less. If you are hiring someone to write your bio, avoid creative writers as they have a tendency to puff things up. Instead, hire someone with a journalistic flair.
Outdated Website: There was a time when Flash websites were the rave. Nowadays, this type of website is so yesterday. Not only are Flash websites becoming outdated they are not compatible with smartphones. And as more and more individuals are acessing the web using their smart phones, you certainly don't want your outdated flash websites to impact on your visitors. You can't go wrong with an HTML5 website though.
Website that can't be updated: making updates to your website is very important if you want to maintain relevance to your fans and other visitors to your site. Calling your designer to help you update pictures, videos and news on your website in the middle of the night is not ideal. No professional wants to be bothered with such pettiness. Ensure you opt for Content Management Systems WordPress which allows you to make updates by yourself and customize the site. (Warning: Do NOT use free sites like Blogger or WordPress.com.  We're talking about running your own WordPress.)
Dos for Actors' and Actresses' Personal Websites
So what DOES belong on your website?  Now that you are aware of the pitfalls to avoid, here are 5 things every actor's personal website needs.
Contact Info: If you're not a superstar like Jennifer Lawrence, you'll want your own contact info as well as your agent's info.  It's hard to manage multiple email accounts but don't be lazy. Separate business from pleasure.  Get an email address using your website .com address designated for your acting career. Avoid Yahoo, AOL and Gmail accounts because they are deemed unprofessional.
Embedded reels: use the YouTube player for your reels.  Forget Vimeo.  Youtube's HD quality is superb, it loads quite quickly.  Oh, did I mention Youtube gets over 1 BILLION visitors a month? That's where your audience is.  If you want to make your reels available only to those who visit your website, all you need to do is unlist it on YouTube.
Interesting Photos: Forget about uploading headshots on your personal website. These types of photos are oh so bland. Instead upload promotional type photos or shots of you being quirky behind the scenes. This adds some element to your character and makes you appear more human.
Fan page Links:– Don't get left behind. Links to your Facebook and Twitter Fan pages are a must on your personal website. If you do not yet have a fan page for these social platforms, you'd better get the ball rolling.
Biography: Your personal website is not complete without a bio. As previously mentioned, avoid being arrogant in your descriptions. Highlight the facts but make it an interesting read. Remember, you are in the business of entertainment.
Website Design Examples for Actors & Actresses
Continue Building Your Personal Brand with Our Best Tips. FREE.
Join our free newsletter for our best tips and strategies to become a superstar online. Whether if you're a blogger, coach, musician, or youtuber, you can take charge of your dreams. Use our insights and gems from years of consulting clients, corporations & celebrities.